Print Friendly Version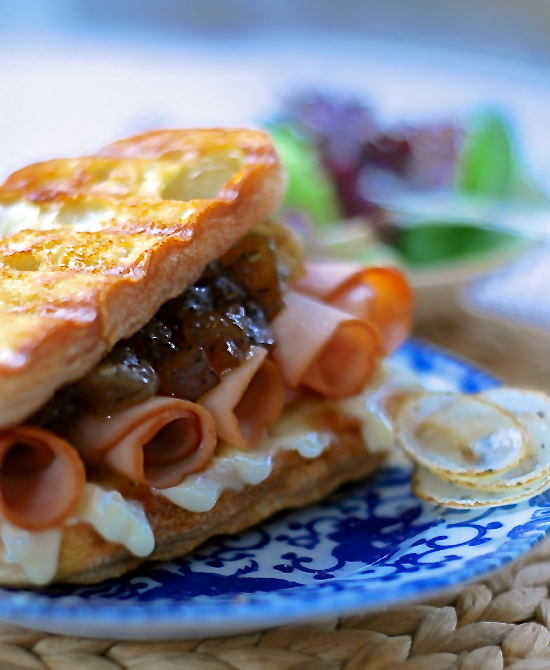 I invented another sandwich! It's exactly what I was going for. A grilled, cheesy panini with the flavors of autumn in every bite. The harvest apple jam and buttery, rustic bread are reminiscent of apple pie… thus the name.
serves 2
4 slices rustic sourdough bread
8 slices maple glazed, roasted turkey breast, sliced thin
4 oz. sliced, double cream brie (rinds on or off)
1/2 large onion, sliced and carmelized in 2 Tablespoons butter
2 teaspoons dry Italian seasoning
1/2 teaspoon dry sage
1/4 teaspoon nutmeg
salt and pepper to taste
splash of balsamic vinegar
1/4 cup Smucker's Harvest Cinnamon Apple Preserves (or other Dutch apple jam)
Butter bread slices as you would to make a grilled cheese sandwich. On two of the slices, buttered side down, stack the brie and then the turkey. In a skillet, caramelize the onion in the butter until golden and sticky. Add the seasonings and jam. Cook down a bit and deglaze pan with just a splash of balsamic vinegar. Divide the onion mixture between the two sandwiches. Top with the other buttered slices of sourdough. Grill on a panini grill or in a skillet until the bread is golden and the cheese is melty.
Enjoy!
~Melissa
You may enjoy these related posts: