Print Friendly Version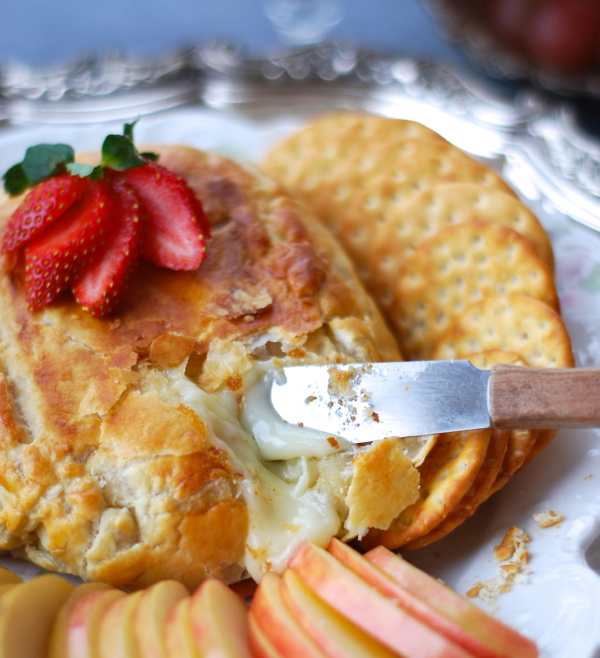 Hello Friends! Looking for easy, beautiful appetizers for the holidays or for a cocktail party? This is one of my go-to appetizers for dinner parties and holiday gatherings. It's fast, easy, delicious, and so pretty surrounded with star shaped crackers, fresh fruit, sprigs of fresh herbs and a variety of jams and fruit compotes. Another beautiful idea is to spread some wildflower honey on the puff pastry sheet and then sprinkling 1/2 teaspoon culinary lavender blossoms over the honey layer before wrapping the cheese inside. I've done this for tea parties. So elegant!
1 sheet puff pastry
1 (8 oz.) wheel brie cheese
2 to 3 Tablespoons honey, jam, fruit compote or fig sauce
a dash or two of nutmeg
1 teaspoon dried or fresh thyme leaves
2 Tablsepoons finely chopped pecans or walnuts (optional)
1 egg + 1 Tablespoon water, beaten together
Remove one sheet of puff pastry from the freezer and allow to thaw on counter for 40 minutes. Heat oven to 400 degrees F. Unfold pastry sheet and spread with jam, fruit compote or honey. Sprinkle evenly with the thyme, a dash of nutmeg and the chopped nuts. Place wheel of brie in center and wrap cheese so it's completely sealed within pastry sheet. Extra pastry can be cut into flower and leaf shapes and used to decorate the top of your wrapped cheese.
Beat egg and water together. Using a pastry brush, brush the top and sides of the wrapped brie with the egg wash. Place on a baking sheet and bake for 25-30 minutes, or until golden brown. Remove from oven. Allow to sit for 20 minutes before transferring to a pretty plate or platter. Serve with crackers, baguette, a variety of fresh fruits and extra jam/fruit compote/honey.
Enjoy!
~Melissa
You may enjoy these related posts: