Print Friendly Version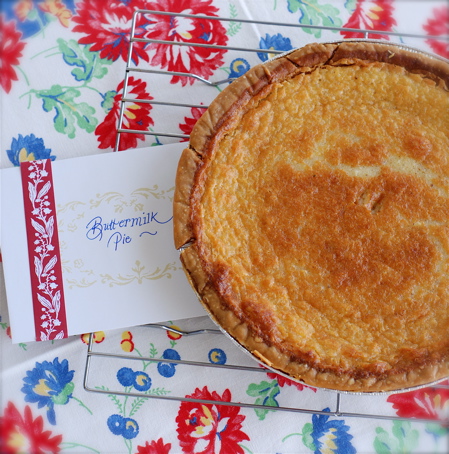 ~ buttermilk pie ~
This is considered an old Southern "hard times" pie. It's made with simple ingredients and it's pure heaven. Jeff and Gracie just love it, and it's fantastic served at room temperature or chilled.
1 prebaked 9-inch pie shell
2 Tablespoons all-purpose flour
1 and 1/4 cup sugar
1/4 teaspoon salt
1 stick (1/4 pound) unsalted butter
3 large eggs
1 cup buttermilk
1 teaspoon pure vanilla extract
1/4 teaspoon freshly ground nutmeg
Bake pie crust at 350 for 15 minutes. Remove from oven and place on a baking sheet to cool a bit while you mix up the other ingredients. Keep the oven on.
Blend flour with sugar and salt, whisk in the melted butter (that is liquified but not sizzling. If it's really hot, let it cool a bit before whisking in.) Beat the eggs and whisk them in. Add the buttermilk, vanilla and nutmeg. Pour into the baked pie shell. Slide the pie, still on the baking sheet, into the oven on a rack that has been placed in the lower third of the oven. Bake for 50-60 minutes at 350, or until a knife inserted in the pie comes clean. The center of the pie will still be a bit jiggly but will set up when cool. Cool on a wire rack.
Enjoy!
~Melissa
You may enjoy these related posts: