Print Friendly Version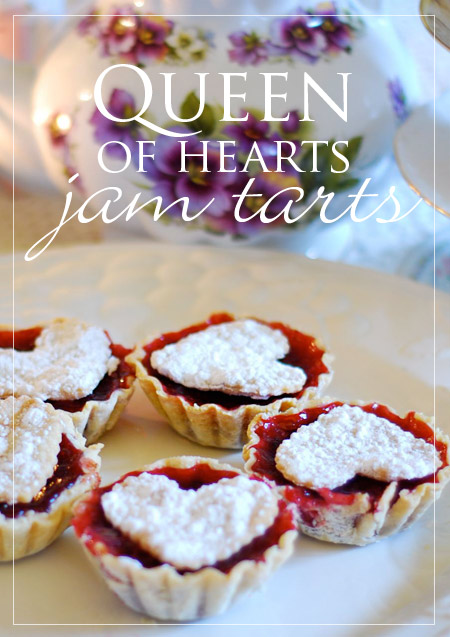 Part of what makes teatime with friends really special is: dainty sandwiches, buttery rich scones with lemon curd and Devonshire cream, and a selection of pretty little decadent desserts. Jam tarts are a wonderful addition to a tray of sweets. For the crust, feel free to use your favorite pie crust recipe, pre-made, refrigerated pastry dough, or my no-fail recipe.
to make the tarts you'll need:
enough pie crust dough to make 12 tartlet-sized crusts
a large jar of your favorite red jam
powdered sugar
Prepare pie crust dough according to the recipe you are using. Preheat oven to 400 degrees F. Line 12 tartlet pans with the little pie crust rounds. Chill in refrigerator for 30 minutes. Using leftover pastry, cut out 12 hearts with a little heart-shaped cookie cutter, place them on a small cookie sheet and chill those too.
After the 30 minutes is up, spoon a generous amount of jam into the tartlet shells (not too much, remember the jam will bubble and expand a bit while baking.) Bake for 12-15 minutes, or until the crusts are a light golden color. Remove from oven and leave to cool completely on a wire rack.
Bake the hearts for about 5 minutes, or until golden. Cool completely. Sprinkle with some powdered sugar and place one on each of the tarts.
Chill tarts in the refrigerator until ready to serve.
Enjoy!
~Happy TeaTime Tuesday!
~Melissa
You may enjoy these related posts: