Print Friendly Version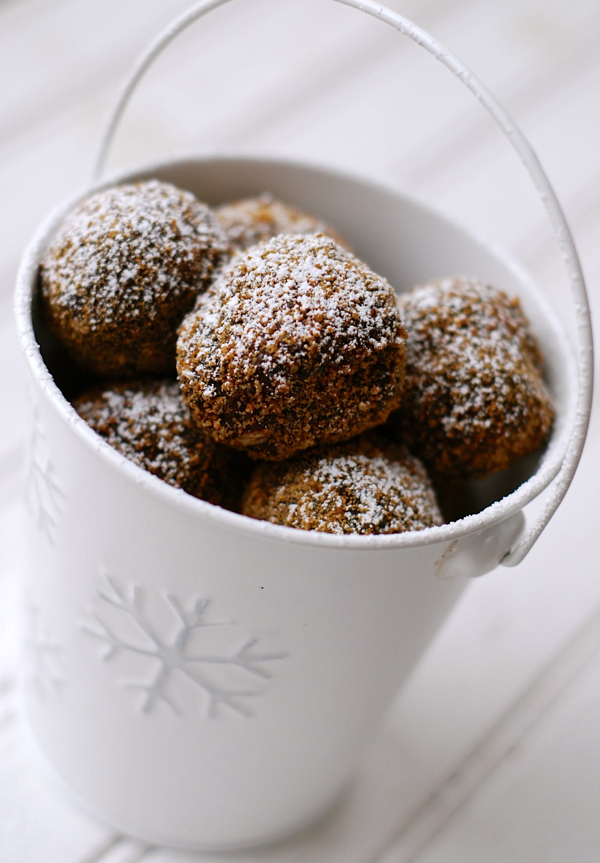 Oh my goodness! I've been so busy! I swear I meant to post this easy little recipe on Friday and the weekend got away from me. All day Saturday was dedicated to car shopping and, after 6 loooong hours at the dealership, I'm proud to announce that we are the owners of a new car. 😉 We really needed one. The last one was 10 years old, getting rusty around the edges and almost completely without heat or air conditioning. Geez, Louise.
Soooo… here we are, only 9 days until Christmas, and I feel behind on sharing my new blog posts and recipes. I'm sure everything will settle down after the new year begins, as it always does, and I'll be happily cooking and blogging on a regular basis again.
How are you? Hopefully unfrazzled and organized and enjoying the holiday season.
This is a ridiculously easy recipe. It seriously only takes 5 minutes to prepare, it's healthy, and it's no-bake. Oh, and it's paleo, for those of you who are following this particular diet regimen. You're going to love these little yummies!
3/4 cup ground pecans
1/4 cup ground almonds
1 cup chopped Medjool dates (packed firmly)
1/3 cup unsweetened cocoa powder (regular or dark chocolate)
2 teaspoons pure vanilla extract
2 Tablespoons water
coconut sugar, for coating
Grind nuts in food processor until fine and uniform. Add dates, cocoa powder, vanilla and water. Pulse until everything is evenly incorporated and mixture is sticking to the sides of the processor bowl.
Remove mixture from food processor and transfer to a bowl. Using your hands, firmly roll mixture into 10 to 12 balls. Roll balls in coconut sugar. Lightly dust with powdered sugar (optional.) Enjoy immediately or place in an air-tight container and refrigerate for up to a week before serving.
PS… These also make a lovely hostess gift or an addition to a holiday gift basket.
Enjoy!
~Melissa
You may enjoy these related posts: