Print Friendly Version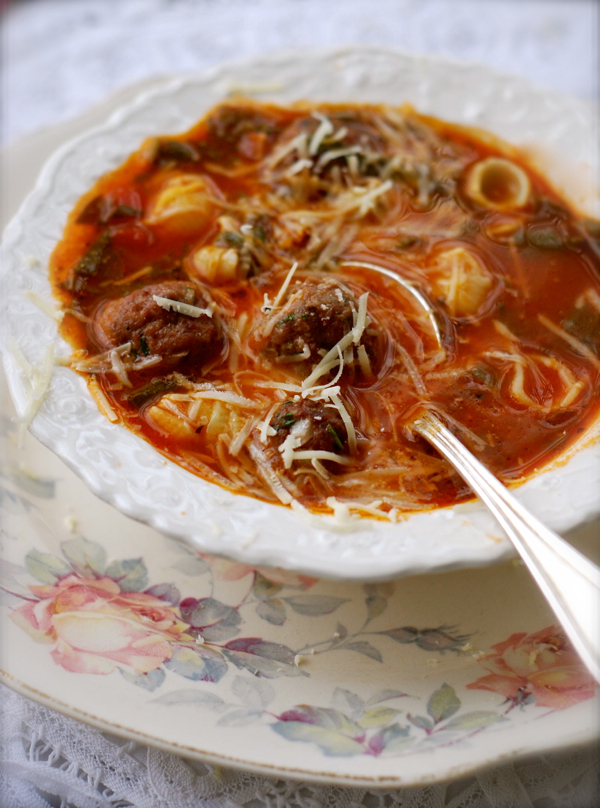 When I woke up this morning, I looked out the window and discovered that the world had been lightly dusted with snow while I was sleeping. It's so pretty, and snow always makes me want to snuggle in for the day, light candles all over the house, start a fire in the fireplace and make soup! So, that's exactly what I did.
To make this recipe a lot less time consuming, you can certainly purchase pre-made, frozen mini meatballs. I've been trying to cook "clean" these days, so I opted to make my own. (It's difficult to find convenience food that is free of soy, strange oils, transfats, and added starch of some kind.) Either way, this soup tastes delicious. I've had Italian Wedding Soup with a clear, chicken stock base and I've had other versions with a tomato base and diced tomatoes added. I prefer the one with the tomato base, but if you don't, simply omit the spaghetti sauce and tomatoes from this recipe. Also, feel free to use any small pasta for this soup… alphabets, ditalini, orzo, acini de pepe… Whatever you prefer. This time, I used small shells.
for the soup:
2 (32 oz.) boxes of Organic chicken broth OR 64 oz. homemade stock
1/2 cup white wine
14.5 oz. can petite diced tomatoes in juice
2 cups spaghetti sauce OR pizza sauce (jarred or homemade)
3 Tablespoons extra virgin olive oil
2 Tablespoons Sriracha hot sauce (optional)
2 teaspoons paprika
2 teaspoons garlic powder
1/2 teaspoon crushed red pepper flakes
4 cups coarse chopped, fresh spinach leaves
Place all soup ingredients in a large stock pot. Bring to a boil, stirring frequently. Reduce soup to a gentle simmer.
Add:
4 cups small pasta, cooked according to package directions and drained well
2 lb. mini meatballs (recipe below)
Stir gently and cook just until everything is heated through.
for the mini meatballs:
~ preheat oven to 350 degrees F. ~
1 lb. lean ground beef
1 lb. lean ground pork or turkey
3 Tablespoons dairy or nut milk (I used cashew milk)
2 pieces Ezekiel (sprouted grain) toast, blended in a blender until crumbs form
1/2 cup fresh basil or parsley, chopped fine
3 large eggs, lightly beaten
2 large cloves fresh garlic, minced
1 medium onion, chopped fine
Using your hands, combine all meatball ingredients in a large mixing bowl until well blended and all ingredients are evenly dispersed. Chill for 30 minutes. Form into mini meatballs and line them up on two, lightly oiled baking sheets. Bake for 20 to 30 minutes, or just until it's no longer pink in the centers of the meatballs. Ladle soup into bowls and sprinkle freshly grated Parmesan cheese over the top of soup. Salt and pepper to taste. Serve.
Enjoy!
~Melissa
You may enjoy these related posts: