Print Friendly Version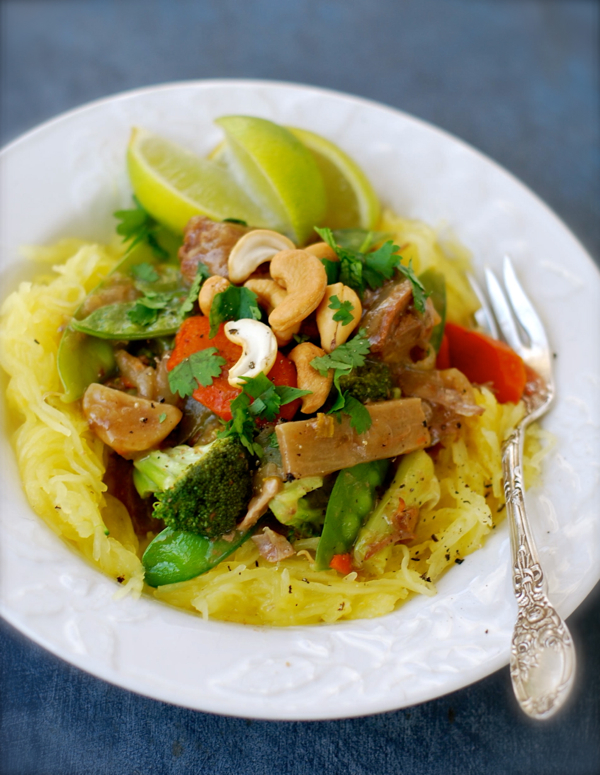 This is that time of year when the Crock Pot is working almost non stop. I love creating healthy, simple comfort food that simmers away on the counter top while I get my work done. It's almost as nice as having a personal chef. 😉
Here's a new favorite! I served this delicious, piquant pork lo mein over baked spaghetti squash and in doing so, made this dish almost completely paleo (Ponzu sauce contains soy.) Feel free to substitute real lo mein noodles, Chinese stir fry noodles, or Udon noodles in place of the squash. I know squash isn't everyone's cup of tea.
2 to 3 lb. boneless pork shoulder
2 medium onions, cut into wedges
2 cups sliced carrots
1 Tablespoon Sriracha hot sauce
1/3 cup Ponzu sauce
5 Tablespoons raw honey, melted
2 Tablespoons dark sesame oil
1 teaspoon freshly ground black pepper
1 teaspoon onion powder
2 teaspoons garlic powder
1/4 cup minute tapioca
1 Tablespoon freshly grated ginger root
1 cup chopped celery
1 (8 oz.) can bamboo shoots, drained well
1 (5 oz.) can water chestnuts, drained well and coarse chopped
2 cups broccoli florets
6 oz. fresh pea pods OR sugar snap peas
9 to 12 oz. noodles (cooked according to package) OR cooked spaghetti squash
cilantro
cashews
lime and/or lemon wedges
sesame seeda
Trim excess fat from pork. Cut into 1 inch chunks. Mix pork, onions, carrots, Sriracha, ponzu, honey, sesame oil, pepper, onion powder, garlic powder, tapioca, ginger, celery, bamboo shoots and water chestnuts in the bowl of a 4 to 8 quart slow cooker.
Cover and cook on LOW for 6 to 7 hours or HIGH for 3 to 4 hours. (If using the low setting, turn to HIGH during the last 15 minutes of cooking time and add the pea pods and broccoli. Cook until veggies are crisp-tender and brightly colored.)
Cook noodles according to package directions OR bake a spaghetti squash according to THESE INSTRUCTIONS.
When lo mein topping is done, place noodles or squash in individual serving bowls. Top with some of the topping and sauce. Garnish with: chopped cilantro, chopped cashews, lime/lemon wedges for squeezing over, and sesame seeds. Salt and pepper to taste.
Enjoy!
~Melissa
You may enjoy these related posts: