Print Friendly Version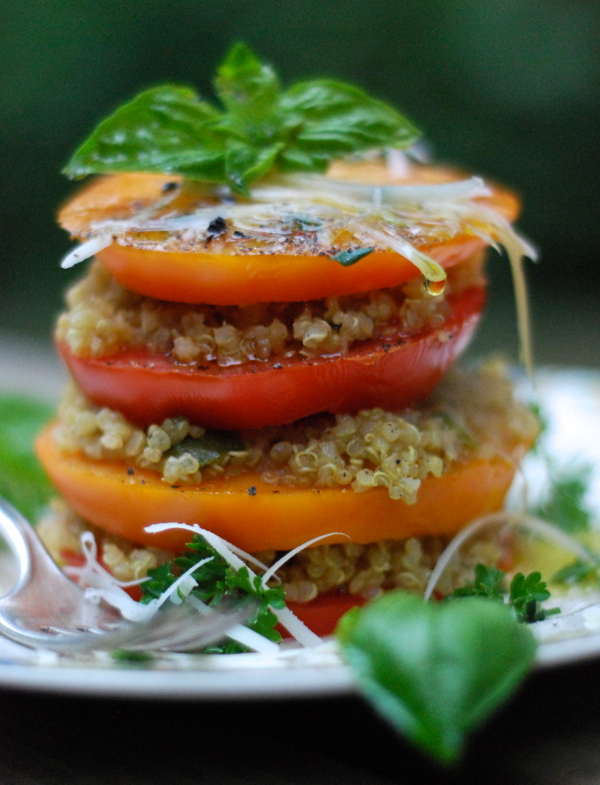 Talk about bumper crops. I've been reading a bunch of recent posts on the food blogs out there and it seems the gardeners in other parts of the country, and even other parts of Minnesota, aren't having much luck with tomatoes this year. Well, to be honest, if I was just going by the couple tomato plants in my yard that sort of struggled along all summer only to produce 8 toms,(EIGHT! BLA!) I would be nodding enthusiastically in agreement. But…. there's a lady I know who grows the most beautiful heirlooms every year and whenever I visit her garden stand she's practically giving them away because she says, "They're coming out of my ears!" I happily hand her a few dollars and walk home with as many tomatoes as I can carry wondering what her secret is. I always mean to ask her and then I see the tomatoes and I get so excited I forget everything else.
Anyway, I'm still cooking with tomatoes. Here's my latest very healthy recipe. You could certainly use a rice or risotto salad in place of the quinoa, but the quinoa really is lovely and so good for you. This salad is absolute heaven drizzled with unfiltered extra virgin olive oil, a splash of lemon juice, and a sprinkle of Parmigiano Reggiano cheese, sea salt and fresh pepper.
This recipe make quite a bit of quinoa. Right when it was done, Jeff and I had some for lunch. I served it in pretty teacups along with some leftover grilled chicken from the evening before. I still had some left over to bake into a meatloaf , sprinkle on a sandwich wrap, and make some of these yummy little breakfast patties. How do you like to use up leftover quinoa?
for the quinoa:
2 Tablespoons olive oil
1 large onion, finely chopped
1 large bell pepper (any color) finely chopped
3 garlic cloves, minced
2 cups rinsed quinoa
6 cups chicken or vegetable stock/broth
Heat oil in a wok or Dutch oven. Add onion and bell pepper and saute until tender and slightly browned. Add the garlic and saute another minute. Add stock and rinsed quinoa. Bring to a gentle simmer. Stir once after 5 minutes. Then simmer for another 30 minutes or until all of the stock has been absorbed. Fluff with a fork. Cover and chill in refrigerator until cold.
When you're ready to prepare the salads:
Carefully slice the prettiest, freshest, ripest tomatoes you can find into thin rounds. Place a round on a plate, top with a little cold quinoa salad and continue until you have  4-or-so slices with quinoa sandwiched between (as pictured above.) Drizzle with olive oil and a little fresh lemon juice. Sprinkle the cheese, salt and pepper over, And garnish with a few big leaves of fresh basil and/or a snip or two of fresh chives. This is wonderful paired with a good white wine.
Enjoy!
~Melissa
You may enjoy these related posts: