Print Friendly Version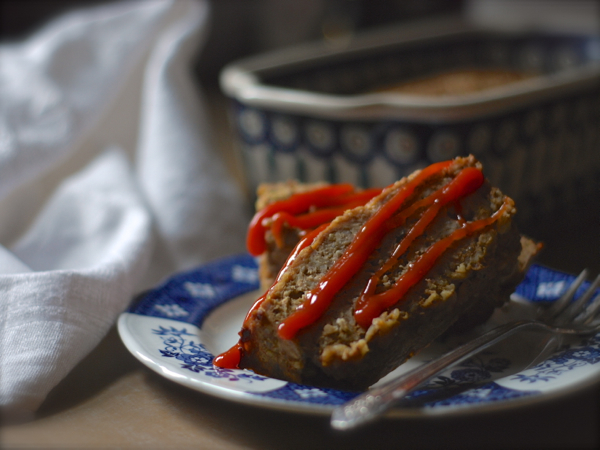 What can I say? It snowed again. A lot. Trying to just ignore it. Made soup again yesterday, which I love. Otherwise, bleh. I just want spring to be here. Minnesota weather can be so weird.
Oh well… I guess we'll just have to put up with it, and keep making comfort food until it melts 🙂
Speaking of comfort food… this meatloaf was delicious and satisfying and every bit as good as the fattier, less healthy stuff. Jeff and Gracie loved it too. We enjoyed it for dinner, and with eggs and toast for breakfast. Such a great little recipe.
for meatloaf:
1/4 cup quinoa
1/2 cup water
1 Tablespoon olive oil
1 small onion, chopped
2 large cloves garlic, minced
1 lb. lean ground turkey
1 cup rolled oats
1 Tablespoon tomato paste or ketchup
1 Tablespoon hot sauce
2 Tablespoon Worcestershire sauce
1 large egg
2 teaspoons seasoned salt
1 teaspoon freshly ground black pepper
1 teaspoon dried oregano
1/2 teaspoon allspice
1/8 teaspoon cayenne pepper
for glaze:
2 Tablespoons brown sugar
3 teaspoon Worcestershire sauce
Bring quinoa and water to boil in a small saucepan. Cover, lower heat, and gently simmer to 12-15 minutes, or until tender.  Set aside to cool.
Preheat oven to 350 degrees F. Saute onion in the olive oil until tender. Add minced garlic and cook an additional minute. Cool a bit and transfer to a large mixing bowl. Add quinoa, turkey, oats, tomato paste/ketchup, hot sauce, Worcestershire, egg, and seasonings. Using your hands, mix until everything is evenly combined.
Butter a loaf pan and add turkey mixture. Smooth top with a rubber spatula. Mix glaze ingredients in a small cup. Top meatloaf  with glaze mixture. Bake for 50 minutes, or until no longer pink and a meat thermometer reads 160. Cool for 10 minutes before slicing and serving.
Enjoy!
~Melissa
You may enjoy these related posts: