Print Friendly Version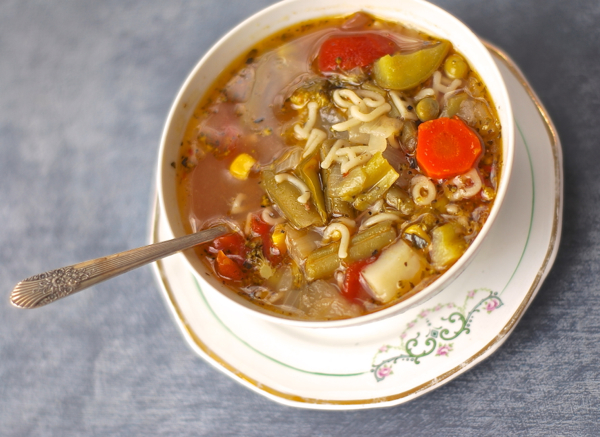 It's zero degrees outside today. The sort of day when you look outside and think it looks nice and sunny… and then you open the door to get the mail, catch your breath, quickly close the door and resolve to never do that again. My how the seasons change here in our fickle Minnesota. I guess that's part of what keeps it interesting though. You never know what the weather is going to be doing from one day to the next.
When Gracie was just a little girl, we started this ritual of making vegetable soup from one of her favorite books. While the soup simmers on the stove top, we make homemade bread. Remember THIS post? Oh, how the years go by. She was 4 or 5 in that photo. Since then we've done a LOT of cooking together. We've made giant pretzels, dessert pizzas with fruit on a cookie crust, brownie sundaes in jars, ice cream sandwiches, cottage cheese dill bread, grilled cheese roll-ups, corn dog muffins, pot roast, chocolate skillet cake, and this soup. Always, this soup…
1) wash and cut into uniform, bite size chunks:
1 large onion, peeled
2 large carrots, peeled
2 sticks of celery
1 large potato, with skin
a couple handfuls of green beans, ends off
1 stalk broccoli
1 can petite diced tomatoes
1 small green pepper
1 small zucchini
2) get ready:
6 cups beef broth or stock
1 cup peas
1 cup corn
1/2 cup fresh parsley, finely chopped
1 large clove garlic, minced
1 teaspoon dry thyme leaves
1 teaspoon dry marjoram leaves or oregano leaves
1 big bay leaf
salt and pepper to taste
1 cup alphabet pasta
3) cook:
Add broth/stock to a large stock pot along with all of the cut vegetables. Bring to boil. Reduce heat to medium-low and simmer, uncovered for 10 minutes. Add the peas, corn, parsley, garlic and herbs. Stir. Bring to simmer and taste. Add salt and pepper as needed. Add alphabet pasta. Stir and simmer, uncovered for an additional 10 minutes or until the vegetables are crisp-tender and the pasta is done. This will make 8 to 10 big bowls of soup.
Enjoy!
~ Gracie and Melissa
You may enjoy these related posts: