Print Friendly Version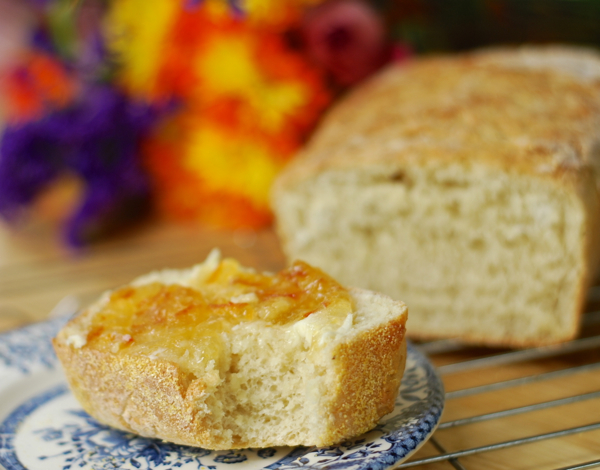 If you like English muffins you'll seriously LOVE this bread. It's the perfect accompaniment to a cup of tea, and it's so easy you can make it in no time. Less work, more enjoyment. My fave.
for two loaves:
~ preheat oven to 400 degrees F. ~
6 cups all purpose flour
2 packages instant yeast (quick rise yeast)
1 heaping Tablespoon sugar
2 teaspoons sea salt
1/2 teaspoon baking soda
2 cups whole milk
1/2 cup water
vegetable oil for coating pans
cornmeal for coating pans
Lightly oil 2 (8×4) bread pans. Coat with cornmeal and set aside.
Sift together 3 cups of flour with the yeast, sugar, salt and soda. In a small saucepan, heat milk and water to 130 degrees. Add to dry mixture and beat well. Mix in remaining flour until a stiff dough forms. Spoon batter into pans. Cover pans with plastic wrap and place on top of preheating oven for an hour, or until dough has doubled in size. Remove plastic wrap and bake in preheated oven for 25 minutes. Remove from oven and allow bread to cool on wire racks for 10 minutes prior to removing from pans. You can enjoy this bread warm or at room temperature, by my favorite is toasted with lots of butter and orange marmalade.
Enjoy!
~Melissa
You may enjoy these related posts: