Print Friendly Version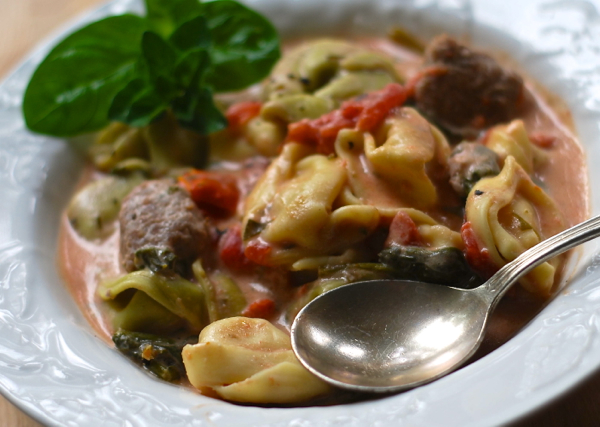 I spent the morning and part of the afternoon with my dear friend Nancy. We took a short road trip to nearby Lake City for lunch at a favorite little hideaway tearoom. For lunch: Yummy cinnamon apple iced tea, quiche, creamy homemade cucumber salad and chocolate peanut butter bars that melt in your mouth. I found a couple vintage cook books and teacups. We walked down by big, gorgeous Lake Pepin which is actually a very wide expanse of the Mississippi river and did some much needed relaxing, chatting and boat gazing…and then more antiquing. Such a fun day. It's always nice to get out of Dodge for a few hours and recalibrate my brain. Know what I mean?
A couple days ago I tried a new recipe for the crockpot and we have another winner. It turned out so creamy and wonderful. Unfortunately this is not the type of crockpot recipe where you can start it in the morning, leave the house, and let it cook for 8 hours. This easy dish is done in 3 to 4 hours. It's perfect for a hot summer day when you're home and you don't want to heat up the kitchen. Trust me, you're going to love this.
20 oz. package of refrigerated cheese tortellini
5 oz. fresh, organic baby spinach
2 (14 oz.) cans petite diced tomatoes, undrained (I like Muir Glen fire roasted)
2 Tablespoons fresh basil leaves, chopped
2 Tablespoons fresh oregano leaves, chopped
2 Tablespoons fresh chives, snipped into small pieces
8 oz, Neufchatel cheese, cut into chunks
1 and 1/2 lb sweet, lean, Italian turkey sausage, browned and cut into 1 inch pieces
3 cups chicken stock or broth
Brown sausage. Place everything in a big (6 quart) crockpot. Gently stir so everything is combined and the pasta is as submerged as you can get it. Cover crockpot and turn it to the "low" setting. Check after a couple hours, and gently stir. Push the pasta into the liquid. Allow to cook for another hour. Check for doneness. It should be done right around the 4 hour mark. Garnish with fresh herb sprigs and freshly grated Parmesan cheese if desired. Salt and pepper to taste.
Enjoy!
~Melissa
You may enjoy these related posts: