Print Friendly Version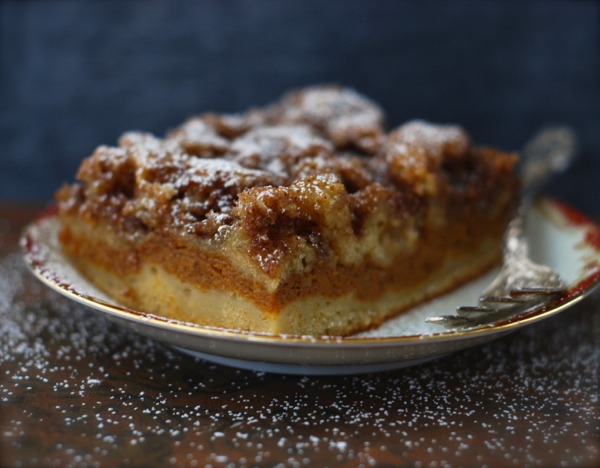 Last week, between preparing dinner for company (twice) and making Jeff's birthday favorites, I felt like I was cooking in the Olympics. If cooking was an Olympic sport. Which I'm pretty sure it's not yet.
The one nice thing about having a few cooking marathon days in a row is that, if you plan it right, you won't have to cook again for a week. The English Baked Beans, Grilled Steaks, Flourless Chocolate Torte, Skyline Chili, Minimalist Chicken Noodle Soup, and Oriental Noodle Slaw that I made all held up very well and made spectacular leftovers. Oh…and this cake…
If you like coffee cake and pumpkin pie, you are going to love this cake. It's the best of both worlds. The coffee cake has a wonderful, delicate maple flavor and is filled with a ribbon of yummy, homemade pumpkin pie filling. This cake is topped with a spiced brown sugar mixture that gets slightly caramelized while it bakes and sort of sinks into the top of the cake. There is no need to frost this already sweet cake, but I thought a sprinkling of powdered sugar made it even prettier, and looked like "frost" on the pumpkin.
~ preheat oven to 325 degrees F. ~
for the cake:
1/2 cup vegetable oil (or light olive oil, or canola)
3 large eggs
3/4 cup sugar
1 teaspoon maple extract (or two teaspoons if you want it really "mapley")
1 cup regular sour cream
1/4 cup milk
2 cups all-purpose flour
1 teaspoon baking soda
1 teaspoon baking powder
1/2 teaspoon salt
for the pumpkin filling:
15 oz. pure pumpkin puree (not pie filling)
3/4 cup sugar
1 teaspoon salt
1 teaspoon cinnamon
1/2 teaspoon pumpkin pie spice
1/4 teaspoon nutmeg
1/8 teaspoon ground cloves
2 eggs
for the brown sugar topping:
1/3 cup softened butter (not margarine)
1 cup brown sugar
1 teaspoon cinnamon
1 teaspoon pumpkin pie spice
a light sprinkling of nutmeg
Putting the cake together: Butter a 9 x 13 glass baking pan. In a large mixing bowl, start mixing your cake batter. Combine the 1/2 cup of oil, 3 eggs, 3/4 cup sugar, maple extract, sour cream and milk. Mix until smooth. In a medium bowl, combine the flour, baking powder, baking soda and salt so all ingredients are well incorporated. Add the dry mixture to the wet mixture and stir until well combined and smooth. Pour half of this cake batter into the bottom of the baking pan, and using a rubber spatula, smooth it so it makes an even layer.  Set the other half of the cake batter aside while you prepare the filling.
In another medium sized mixing bowl, combine all of the pumpkin filling ingredients, stirring until smooth and well combined (I used a wire whisk for this.). Carefully place the filling over the first layer of cake in the pan, using a rubber spatula to even it out, all the way to the edges. Take care not to get the cake batter mixed in with the filling.
Pour the rest of the batter over the filling, as evenly as possible, covering the filling completely. Again, use a rubber spatula to smooth it and try not to get the batter and filling mixed together. Cover the filling completely.
Mix the brown sugar topping ingredients in a small bowl until crumbly. Sprinkle the topping over the cake in an even layer. Sprinkle a little nutmeg lightly over all (about 1/4 teaspoon.)
Place cake in preheated oven and bake for 50 to 60 minutes or until golden brown and a wooden skewer comes clean when inserted into center of cake. Take care not to over-bake.
Place cake on a wire rack to cool completely before slicing, plating and sprinkling with powdered sugar.
Enjoy with your favorite coffee, tea or a glass of milk!
~Melissa
You may enjoy these related posts: