Print Friendly Version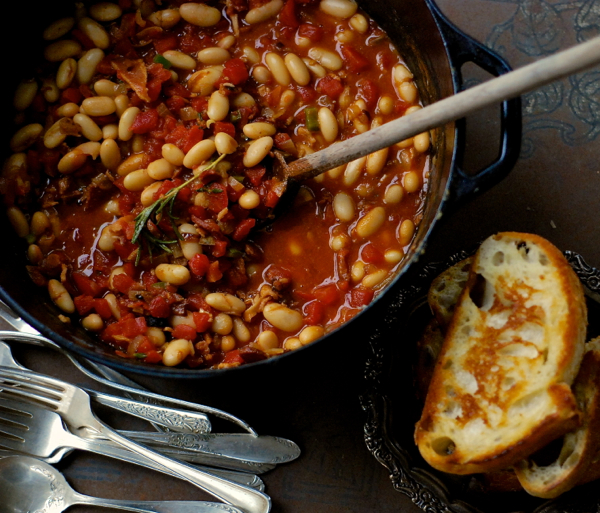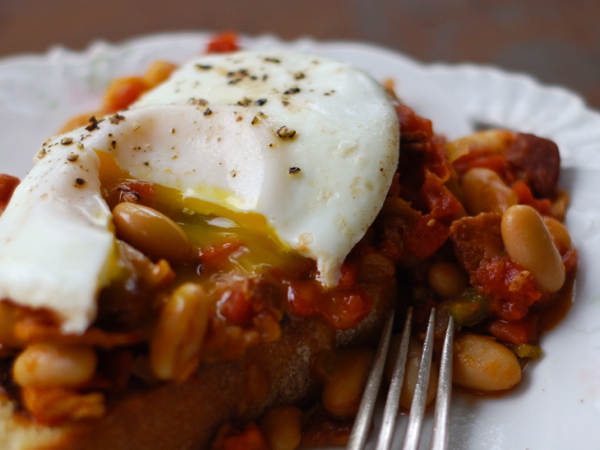 Another busy day in the kitchen and I'm just plain tired. I've been snapping photos all day and now I'm looking forward to just hanging out with our company tomorrow, sipping wine, hanging out by the campfire and relaxing.
Jeff is outside grilling steaks. I made mashed potatoes & gravy and coleslaw to go with them. We're grilling out as much as possible before Old Man Winter comes to town. We DO grill during the winter too, but not nearly as much. The season is definitely winding down. What sorts of things do you grill in the autumn?
Here's a delicious recipe for "baked" beans. You may be familiar with the English tradition of piling baked beans on toast for breakfast. I'm friends with a few Brits and they have all sorts of different variations on this theme. Right out of the can is popular too! If you're looking for something a bit less traditional, with a little more spunk… you've come to the right place. These are bacony, herby, and tomatoey and spicy and the perfect accompaniment to a big mug of black Keemun tea! We like ours with a soft-yolked, fried eggs broken over the top.
1/4 cup extra virgin olive oil
1 large onion, finely chopped
1/2 teaspoon sea salt
1/2 teaspoon freshly ground black pepper
3 large cloves garlic, minced
1 lb hickory smoked bacon, fried until crispy
5 sprigs fresh thyme, leaves removed
2 large sprigs fresh oregano (keep whole)
1 large sprig rosemary (keep whole)
2 (14 oz.) cans petite diced tomatoes (I use fire-roasted)
1/4 cup brown sugar
1 jalapeno pepper, chopped fine
2 Tablespoons Heinz 57 (or THIS HOMEMADE STEAK SAUCE)
1 Tablespoon Worcestershire sauce
2 teaspoons Dijon mustard (I used Trader Joe's with white wine)
2 (14 oz.) cans Cannellini beans, rinsed and drained well
1 loaf crusty bread, sliced, buttered and toasted in skillet (like you would grilled cheese)
Heat the oil in a large, heavy bottomed Dutch oven. Add the onion, salt and pepper. Cook for 5 minutes, over medium heat, until translucent and tender. Add garlic. Cook for 1 additional minute. Add most of the fried bacon (save a bit for garnish,) thyme leaves, oregano sprigs and rosemary sprig, tomatoes, brown sugar, jalapeno, steak sauce, Worcestershire, and Dijon. Simmer gently for 20 minutes. Stir in the Cannellini beans. Season to taste with salt and pepper. Cook for an additional 10 minutes.
Liberally butter thick, crusty, rustic bread slices. Toast them in a skillet as you would grilled cheese sandwiches. Place one or two slices on each plate, top with a generous amount of beans. Serve with or without tea and eggs. Garnish with a little more crumbled bacon and finely chopped, fresh parsley if you wish.
Enjoy!
~Melissa
You may enjoy these related posts: