Print Friendly Version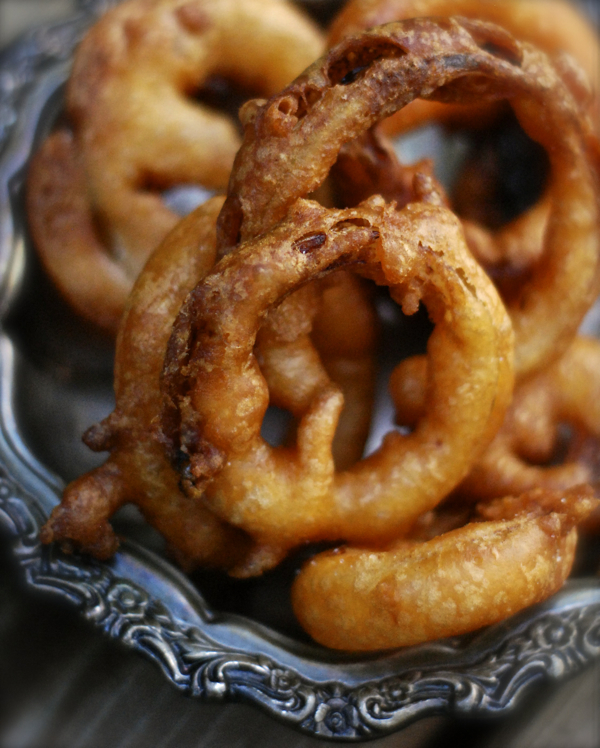 Hello! Today was hectic and busy and awesome. We cooked and cleaned and got ready to celebrate my hubby's 43rd birthday. We had leftover, homemade baked beans on skillet fried toast…topped with soft yolked eggs for our breakfast. SO delicious with a big mug of hot, hearty black tea. After a cozy, romantic brekky,  I got to work making Skyline Chili and Flourless Chocolate Espresso Torte like I do every October 31st. It's a tradition that's been written in stone. I love stuff like that. The traditions that everyone loves and can really count on. We carved pumpkins with the grand girls, had dinner together, and then bundled up and went trick-or-treating. Such a great day. I'm so happy I took photos.
Here's an amazing recipe that Jeff made up around the same time that he created his beer battered shrimp recipe. These onion rings are light and crispy and perfect. I thought they were amazing dipped in mayo mixed with a little Sriracha hot sauce. If you know me, you won't be surprised one bit. I put Sriracha on almost everything. These crispy critters are good with my famous sub sauce too!
2 to 3 large onions, peeled, cut into thick slices and separated into rings
for the beer batter:
 1 cup flour
 1 teaspoon salt
 1 teaspoon sugar
 1 teaspoon baking powder
 1/2 cup to 1 and 1/4 cups beer (Jeff used Icehouse)
 1 Tablespoon hot sauce (Jeff used Sriracha)
 Place 1 and 1/2 inches vegetable or canola oil in a deep, heavy-bottomed skillet. Heat until temp. reaches 375 degrees F.
Combine the flour, salt, sugar and baking powder in a large mixing bowl. Whisk in beer and hot sauce and mix until smooth. Batter will be thick. Thin with extra beer if needed.
Working in batches (you don't want to crowd the pan) add some of the onion rings to the batter and coat them completely. Using tongs, carefully transfer the battered rings to the hot oil. Cook for approximately 3 to 4 minutes, turning constantly, until they're golden brown and completely crisp.
 Remove fried onion rings to a paper towel-lined plate to drain. Sprinkle liberally with smoked paprika.
Serve with ketchup and your favorite condiments. I just love these with grilled cheeseburgers or Fillet-o-fish sammies.
Enjoy!
~Melissa
You may enjoy these related posts: