Print Friendly Version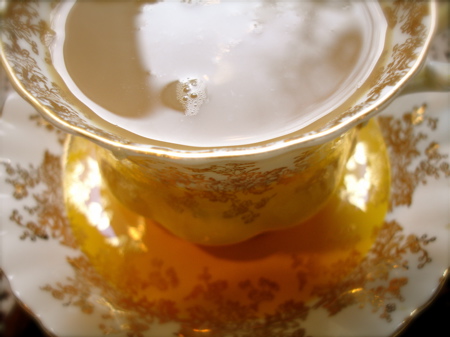 photograph by Melissa Placzek
Hello friends! I've decided to try something new. On Tuesdays I'll be talking about all things tea! "Tea & Conversation" was the name of my newsletter when Chin Deep in Bubbles was first published, and I thought it would be fun to breathe life into the newsletter again. Are you ready to take a journey with me and learn more about the mysteries of tea?
On Tuesdays I'll feature a "tea of the week" and give you a fun tea fact. Many of you have expressed and interest in learning more about tea since you became readers of the blog and friends of my ChinDeep page on facebook. I hope you'll enjoy these posts. I welcome your comments and I look forward to answering any questions you may have.
The basic types of tea are as follows: white, yellow, green, oolong and black. There are flavored, or 'scented' teas in all these categories. I will try to mix it up and give you a different tea to sample every week. I hope this inspires you to try them all and expand your palette. Much like wine, tea is a multi-faceted beverage. Once you start trying new varieties it won't take long to know what you prefer. You'll soon be able to recognize the 'good' stuff and the 'not-so-good' stuff, and one variety from another. I encourage you to give each variety more than one 'chance' to impress you. Some teas may seem strange at first and are an acquired taste. After a few tries you may find that you love a tea that you didn't like at first. This seems to be especially true with green teas if you are use to drinking the standard black.
:: Tea of the Week ::
Keemun Downy Bud
(Qimen Hao Ya)
I thought it would be best to start out with a Chinese black tea. This is one of the most common teas available, if not the most common. Today, tea is grown and produced in sixteen different regions of China. When tea was first cultivated in China the small plantations were often tended by Buddhist monks. Many of the teas cultivated in China are still made by hand. The skills required to manufacture these teas are passed down from one generation to another.
Keemun- Among the 'elite' of the Chinese teas, Keemun is available in different grades. They all have shiny, jet black leaves and are used as the base tea for flavored and scented teas. It produces a silky, coppery brew with a deep, rich floral aroma. Sometimes called the "red wine" of teas, it actually does have a sweet, wine-like flavor. This hearty tea is perfect with the evening meal or a rich chocolate dessert. I love it with a high tea featuring beef and rustic, buttery bread.
:: Tea Fact ::
Tea contains polyphenols and antioxidants that aid in protecting against degenerative diseases. The antioxidant effects of drinking tea have been compared to consuming certain fruits and vegetables…"A salad in a cup." Studies have indicated the positive effects of tea for helping people who've suffered from heart disease or a stroke. Tea can reduce the inflammation that is sometimes the side effect of vascular problems. Polyphenols found in tea can inhibit the development of cancer cells. Puerh and oolong teas are beneficial for reducing cholesterol. Green tea contains natural flouride that strengthens tooth enamel and prevents cavities.
Enjoy!
Happy tea!
~Melissa
You may enjoy these related posts: