Print Friendly Version
Today Gracie had the day off from school and we decided to work on crafts. As we perused the shelves of my craft closet she didn't seem very enthused. I showed her fabrics, and yarns and little looms….no, no, no… "How about embroidery?" I asked. "What's that?" she replied. So I showed her a book on one of my favorite art forms, redwork. She brightened a little as we paged through my pattern book. "Yup, that's what I want to try." So I transferred a simple cherry pattern onto a flour sack towel and showed her a basic satin stitch. She was instantly hooked! We listened to the radio and she stitched while I knitted. She kept telling me how much fun she was having and how she wants to create some of her own embroidery designs! That's my girl. So very creative.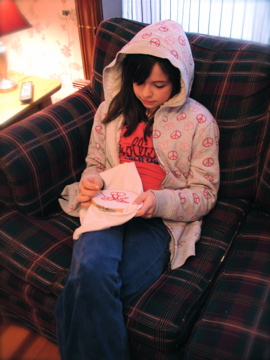 Gracie's first completed redwork piece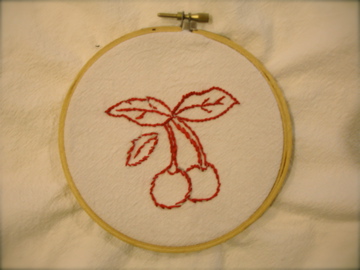 I think it's extremely important to pass basic homemaking skills to our children. Things like preparing a special meal, cooking easy, nutritious recipes, saving money at the supermarket, and washing a load of laundry. Passing down a few fun art and craft skills is important too. In a world where people are being over-entertained and way over-stimulated, it's no wonder there is an epidemic of children and adult ADD. I seriously wonder how many of these cases were caused, not from  a pre-existing chemical imbalance, but from too much "screen" time. On that same note, I wonder how many of these maladies could be prevented and even cured by simply turning off the television, video games and computers? Would an injection of creativity, fresh air and good books be a panacea?
We need to awaken our children's (and our own) imaginations with creative pursuits. Not only will we all be healthier, our connection will be more meaningful when we learn to relax, play and create together.
Just a thought.
~Melissa
You may enjoy these related posts: