Print Friendly Version
"During the last quarter of the nineteenth century, decorative surface embroidery on practical household linens came into vogue in America."
From the book Red & White American Redwork Quilts by Deborah Harding
My hubby gave me a boxed set of redwork books for Valentine's Day a few years back. I've been interested in embroidery and redwork since I was little. I  remember a nice neighbor lady teaching me how to do the basic stitches on a pre-printed pillowcase with a delicate lace trim. I was mesmerized by how she could take something so plain and turn it into something so beautiful.  My aunt Bobbie showed me how to do cross stitch and how to knit around the same time. I was probably about 12. Later I got hooked on doing embroidery and cross stitch on French linen, and at one point spent my evenings working a complicated petit point that took me close to a year to complete.
During the warmer months I don't work on my knitting and crocheting as diligently as I do in the winter and I'm always looking for new ways to express myself creatively.
Today I was walking down the hallway to our bedroom and happened to glance over at the book case. I noticed my redwork books…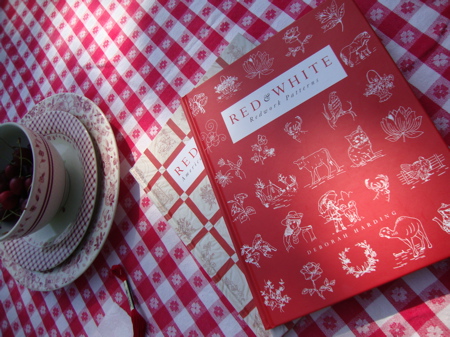 I decided to unearth a "life" quilt I had started working on for my daughter Andrea when she was still in junior high.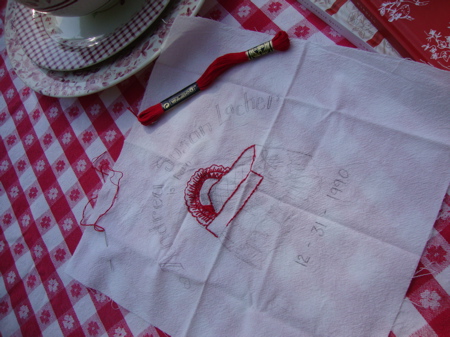 'Baby Andie' redwork design by Melissa Placzek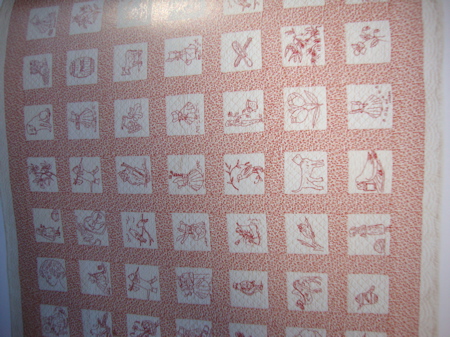 This is the basic pattern I'm going for. Each of the redwork squares will represent a different milestone in my daughter's life.
Next to the books I found a folder full of redwork designs by me! I think I'll be publishing an ebook soon 😉
How are you expressing your creativity today?
XO
~Melissa
You may enjoy these related posts: