Print Friendly Version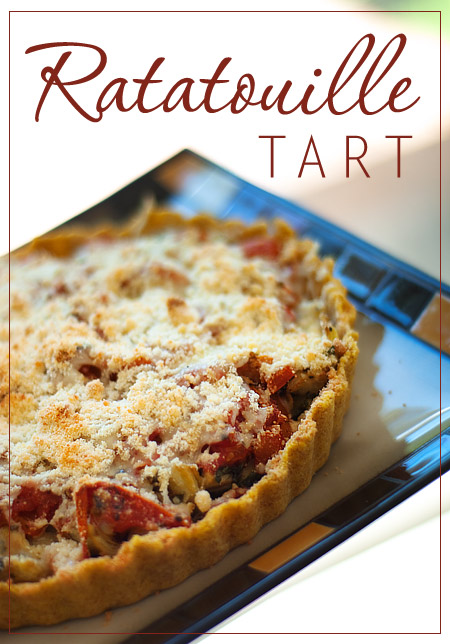 photograph by Jeffrey Placzek
Roasted vegetables are the star of the show in this delicious, vegetarian main dish. Oven roasting vegetables concentrates their flavor and goes perfectly with the mellow flavor of mozzarella cheese and the sharp, smoky flavor of Parmigiano Reggiano. This dish is full of vitamins and only has 225 calories per serving, making it a diet friendly meal.
For the crust:
2/3 cup yellow, stone-ground corn meal
1/3 cup whole grain pastry flour
1/2 teaspoon garlic salt
1/2 teaspoon onion powder
2 Tablespoons unsalted butter
2 Tablespoons olive oil
3 Tablespoons water
For the filling:
3 Tablespoons olive oil
2 shallots, thinly sliced
1 can artichoke hearts, drained well
1 small, green zucchini, cut into 1/8 inch-thick rounds
1 small, yellow summer squash (OR 1/2 lb eggplant) cut into 1/8 inch-thick rounds
2 medium, ripe tomatoes, seeds removed and thinly sliced
1 red bell pepper, thinly sliced and cored
1 head oven roasted garlic
1 teaspoon salt
1/2 teaspoon freshly ground black pepper
3/4 cup shredded part-skim mozzarella cheese
1/4 cup shredded, fresh basil
1 Tablespoon dried thyme
1/2 teaspoon smoked paprika
1/3 cup freshly grated Parmigiano Reggiano cheese
Preheat oven to 350 degrees F. To make crust, combine cornmeal, flour,  garlic salt and onion powder in food processor. Add butter and oil and pulse 20 times, until mixture resembles small pebbles. Add water and pulse until mixture forms loose dough. Press dough into a 9 inch tart pan with a detachable rim. Press aluminum foil into the bottom and up the sides of the pan ON TOP of the dough. Weigh it down with uncooked rice or pie weights. Place tart pan on a baking sheet and bake for 10 minutes. Remove rice and foil. Bake an additional 5 minutes. Remove from oven and allow to cool. Increase oven temp. to 400 degrees F.
To prepare filling, heat 1 teaspoon of the oil in a small skillet over medium heat. Saute shallots for 5 minutes or until softened. Set aside. Coat 2 baking sheets with cooking spray. Arrange zucchini, eggplant, tomato slices and red pepper in a single layer and brush with remaining olive oil. Sprinkle with salt and pepper and roast the vegetables until softened but not browned, about 15 minutes. Roast the head of garlic according to THESE DIRECTIONS. Remove from oven and allow to cool.
Lower oven temp. to 350 degrees F. Lay zucchini in bottom of tart crust, overlapping if necessary. Cover with a third of the mozzarella and some of the basil and thyme. Add the summer squash (or eggplant, if using) next. Add shallots, artichoke hearts and another third of the mozzarella, remaining basil, thyme and smoked paprika. Add tomatoes, red pepper and all of the oven roasted garlic (peelings completely removed.) Top with the rest of the mozzarella and all of the Parmigiano Reggiano. Bake until cheese is melted and vegetables have further wilted, about 30 minutes. Remove from oven and cool for 5 minutes. Cut into 8 slices. Serve warm.
Enjoy!
~Melissa
You may enjoy these related posts: