Print Friendly Version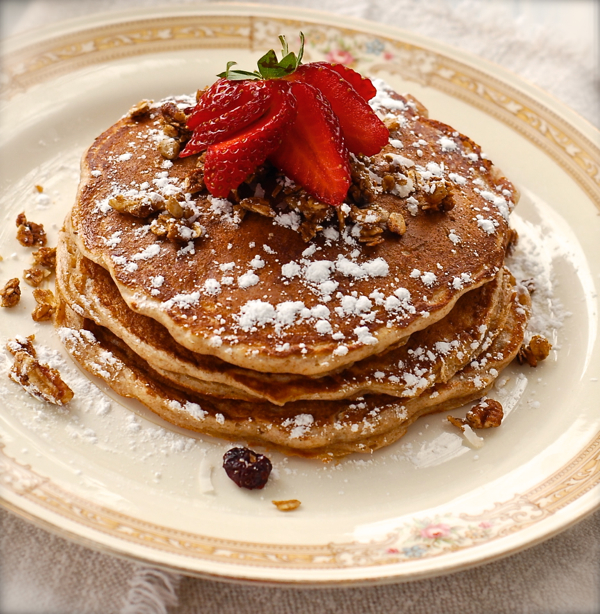 ~ hippie cakes ~
serves- approximately 10 (makes 10 pancakes)
prep time- 15 minutes
cook time- 30 minutes (to cook all of the batter)
While vacationing on the north shore of Lake Superior with my little fam this past summer, we decided to go to one of our favorite restaurants, The Coho Cafe, for breakfast. Actually, it's so good, we went two days in a row. The first day I had the fabulous apple walnut French toast with homemade wild rice sausage…and on the second day I had the granola pancakes. Oh my gosh. They were everything pancakes should be, and more. Sweet and fluffy with the distinct crunch of granola. Perfect with pure maple syrup, bacon and fresh fruit.
I decided to try to recreate these little gems in my kitchen yesterday using some of my homemade maple cranberry granola. I'm happy to report, they turned out amazing. We're down to the last crumbs in the granola jar, so I guess I'll have to make some more soon! This time I'm going to try using dried blueberries and lavender/orange honey in place of the maple syrup. I'll let you know how it goes 🙂
Anyhoo…here's the recipe for those granola pancakes!
These freeze beautifully in Ziploc freezer bags with wax paper in between the pancake layers.
2 cups whole wheat flour
1 cup granola
2 teaspoons baking powder
1/2 teaspoon baking soda
1/2 teaspoon salt
2 Tablespoons light olive oil
2 large eggs
1 and 1/2 cups milk (plus a little more for thinning the batter, if needed)
1 cup Greek yogurt
1 teaspoon vanilla
Mix the flour, granola, baking powder, baking soda and salt in a large mixing bowl. Mix the oil, eggs, milk, yogurt and vanilla in a separate bowl. Combine until all ingredients are evenly incorporated and just moist. Thin if necessary. Using a 1/4 cup measuring cup, pour batter into a lightly oiled, nonstick frying pan making your pancakes one at a time over medium to medium-high heat. Serve with applewood smoked bacon and top with powdered sugar, a sprinkle of granola and berries, and a drizzle of pure maple syrup.
Enjoy!
~Melissa
You may enjoy these related posts: