Print Friendly Version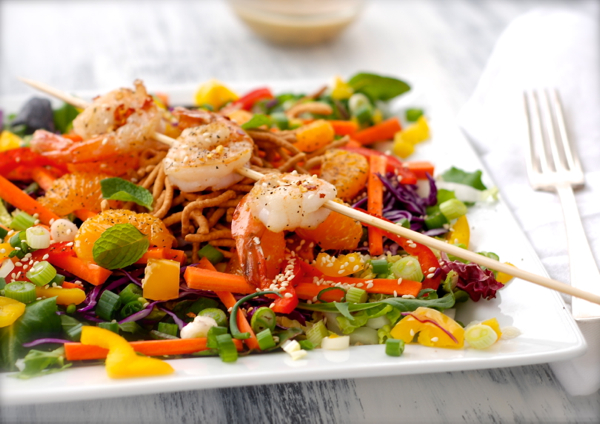 ~ oriental garden salad ~
A feast for the eyes and palate. This salad is bursting with color and good-for-you ingredients. Top it with grilled shrimp, chicken, beef, salmon, pork tenderloin chunks or Chinese pot stickers!
for each salad, apply the following ingredients in order:
spring greens
shredded Napa cabbage
shredded purple cabbage
julienne carrots
slices of red and yellow bell pepper
peapods
chopped green onions or a little purple onion
mandarin orange segments
a little mound of chow mein noodles
a sprinkle of toasted sesame seeds
a sprinkle of sea salt and fresh ground pepper
a pinch of red pepper flakes
a few mint leaves for garnish
a drizzle of homemade oriental vinaigrette
~ homemade oriental vinaigrette ~
combine:
1/3 cup of the juice from the mandarin oranges
OR
1/3 cup fresh orange juice
2 Tablespoons seasoned rice vinegar
3-4 Tablespoons honey
1/3 cup extra virgin olive oil
1/4 cup light mayonnaise
1 teaspoon Dijon mustard
2 teaspoons dark sesame oil
1 Tablespoon soy sauce
2 Tablespoons finely chopped fresh mint leaves
2 Tablespoons orange zest
1 Tablespoon finely grated fresh ginger
(adjust seasonings and ingredients to taste)
Enjoy!
~Melissa
You may enjoy these related posts: