Print Friendly Version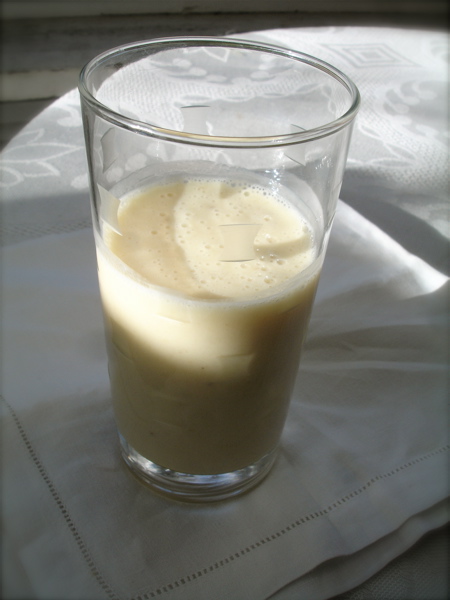 ~ rose bakery smoothie ~
This is a simple, delicious and healthful recipe for the classic banana smoothie that they make at Rose Bakery in Paris. I discovered it, among many other enticing recipes, while paging through one of my favorite cookbooks Breakfast, Lunch, Tea.
"Breakfast, Lunch, Tea is the first cookbook by Rose Carrarini, who co-founded the much-imitated delicatessen Villandry in London in 1988, and now serves her signature simple, fresh and natural food at Rose Bakery, the Anglo-French bakery and restaurant in Paris. Rose holds a passionate philosophy that: 'Life is improved by great food and great food can be achieved by everyone.' Simplicity, freshness and the ability to choose the right things to cook are the keys to success and, with Rose's guidance and recipes, perfection and pleasure are easily attainable." ~the copy on the front endpaper of Breakfast, Lunch, Tea
for one smoothie:
1 ripe banana
1 teaspoon honey
2 Tablespoons apple juice
1/2 cup natural plain yogurt or soy milk
Put all the ingredients in a blender and liquidize until smooth and frothy. Serve immediately.
variations:
* add a handful of strawberries when in season
* replace the apple juice with lime juice, the honey with sugar and add a handful of fresh, grated coconut
* replace banana with soft chunks of mango and a dash of lime juice to the apple juice
* use any poached fruit (such as apricots) in place of the banana and omit the juice
* use rice milk in place of the yogurt and add a few chopped dates, a handful of rolled oats, and a few almonds
Enjoy!
~Melissa
You may enjoy these related posts: