Print Friendly Version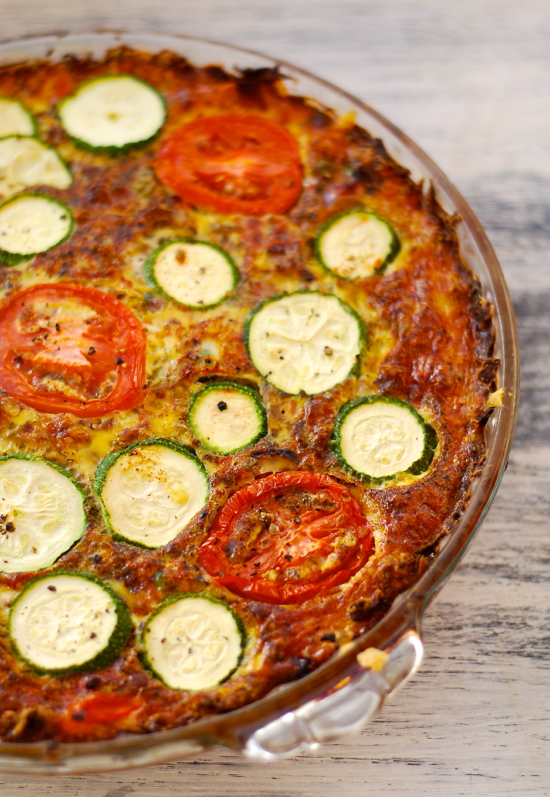 Looking for a quiche that's healthy and delicious? I make quiches several different ways, but none of them are as healthy as this one. It seems like most quiches either have a fatty, pastry crust or a filling that includes too many carbs (my crustless quiche is yummy, but it calls for 3/4 cup of Bisquick…not exactly a carb-conscious choice.)
I thought it would be fun to make a crust out of veggies instead of pastry, and do a traditional custard filling. It turned out so flavorful. You won't miss the pie crust one bit!
for the crust:
2 packed cups grated zucchini
1 teaspoon onion salt
1 cup grated carrot
2 Tablespoons olive oil
1/3 cup unbleached flour
Preheat oven to 375 degrees F. Lightly oil a 10 inch, deep-dish, glass pie plate. Place the grated zucchini in a colander over a big bowl. Sprinkle with a little salt. Allow to sit for 10 minutes. Squeeze out as much excess moisture as you can. Place in a large mixing bowl. Add remaining crust ingredients. Mix well. Transfer to the pie plate. Using your fingers, form into a crust that evenly covers the bottom and sides of the oiled pie plate. Bake for 20 minutes. Remove from oven. Brush with a little more olive oil. Return the crust to the oven to bake an additional 15-20 minutes, or until lightly golden and fragrant. Remove from oven and fill.
filling:
2 cups grated extra sharp cheddar cheese
2 cups sauteed veggies…such as: onion, bell pepper, mushrooms, celery, tomato, peas, carrots, zucchini, asparagus, broccoli, artichoke hearts, fresh herbs and garlic (use whatever you have on hand)
Sprinkle the cheese over the crust first, and then sprinkle the veggie filling evenly over the cheese.
custard:
7 large eggs
3/4 cup lowfat milk or buttermilk
2 Tablespoons dry Italian seasoning
salt and pepper
Beat the eggs and milk together until frothy. Add the Italian seasoning, salt and pepper. Beat a little more to evenly incorporate the seasonings in the custard mixture. Pour over the veggie filling. Sprinkle with a little paprika and nutmeg. Top with thin slices of zucchini and tomato if you wish. Bake at 375 degrees F for 35 to 40 minutes, or until firm.
Cool for 10 minutes before slicing. Wonderful at any temperature.
Enjoy!
~Melissa
You may enjoy these related posts: