Print Friendly Version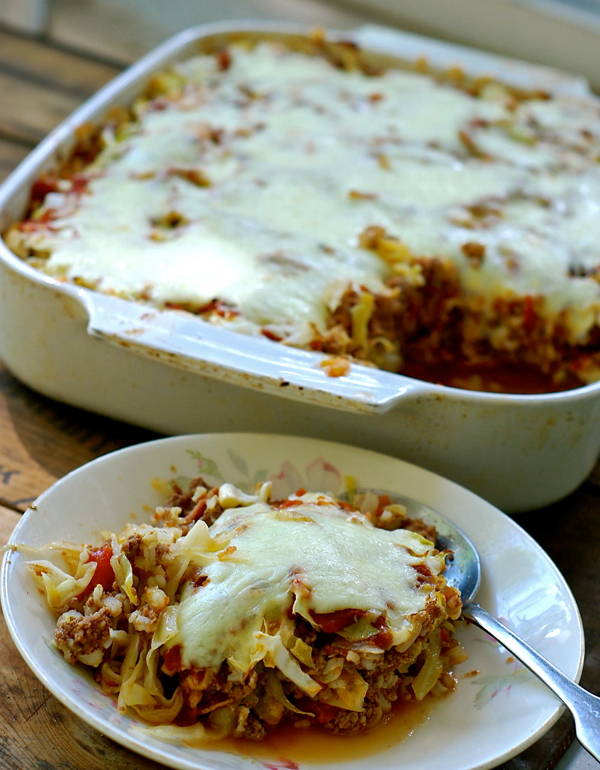 I'm munching on a bit of this casserole as I write this blog post. Gracie and I just took a long hike up Red Wing's Barn Bluff and now I'm hungry! Cabbage roll casserole hits the spot. It's good for you, low in fat and high in fiber, but my favorite thing about this casserole is that it tastes great and it's easy to make! Whenever the craving for cabbage rolls strikes and I don't have the time to make my traditional Polish cabbage rolls, I make this.
Everyone in my house absolutely loves cabbage roll casserole, and it keeps in the fridge for 5 days, so you can have a healthy delicious lunch in minutes by just heating up a portion in the microwave. Love it!
~ preheat oven to 375 degrees F. ~
1 Tablespoon butter
2 lb. extra lean ground beef
1 large onion, coarse chopped
2 (15 oz.) cans fire roasted, petite diced tomatoes + juice
1 teaspoon fresh thyme leaves
1 Tablespoon fresh dill, chopped fine
1/2 teaspoon dry, rubbed sage
1/2 teaspoon ginger powder
1/2 teaspoon sea salt
1/2 teaspoon freshly ground pepper
1/4 teaspoon cayenne pepper
1/4 teaspoon nutmeg
2 and 1/2 cups cooked rice (white or brown basmati is wonderful in this)
1/2 lb. bacon, cooked until browned but not totally crispy
2 Tablespoons reserved bacon grease
3 to 5 large cloves garlic, minced
1 medium (2 lb.) head cabbage, shredded OR pre-shredded cole slaw mix
1 (15 oz.) can tomato sauce
8 oz. part skim Mozzarella cheese, grated
sour cream, optional
Generously butter a glass 9×13 baking dish with the butter and set aside.
In a heavy Dutch oven, cook the ground beef and onion until beef is no longer pink. Drain off any excess fat. Stir in the 2 cans of petite diced tomatoes + tomato juice from cans. Add thyme, dill, sage, ginger, salt pepper, cayenne and nutmeg. Boil. Reduce heat and simmer, uncovered, for 8 minutes. Add the cooked rice. Tear bacon into bite sized pieces and stir that into the tomato/rice mixture as well.
In a small skillet, heat the 2 Tablespoons reserved bacon grease. Once hot, add the minced garlic to the pan and stir until fragrant and lightly golden (approximately 1 minute.) Add this garlic mixture to the tomato/rice mixture.
Place 1/3 of the shredded cabbage in an even layer on the bottom of the prepared baking dish. Place 1/2 of the tomato/rice mixture evenly over the cabbage layer. Continue layering…1/3 of the cabbage, second half of the tomato/rice mixture, and finally the last of the cabbage. Pour the tomato sauce over the top cabbage layer. Cover the casserole with heavy duty aluminum foil and cook in preheated oven for 45 minutes. Uncover and sprinkle the cheese evenly over the top. Return to oven, uncovered, and cook an additional 10 minutes. Allow casserole to stand for 5 minutes prior to serving. Salt and pepper to taste. Serve with sour cream if you wish. I like mine topped with a little homemade ketchup or tomato jam, but that's just me. 😉
Enjoy!
~Melissa
You may enjoy these related posts: