Print Friendly Version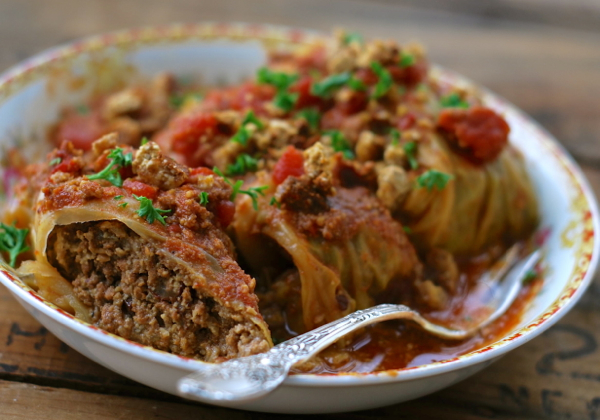 I've been having so much fun cooking Polish food and perusing the stack of Polish cookbooks that my mom gave to me. I think I told you awhile back that I was going to start cooking more Polish food because my husband is Polish and I thought it would be cool to make some authentic dishes that represent his heritage. I'm Italian and have been cooking lots of different Italian fare over the last 19 years that we've been married, so trying all of these new dishes has been a fun and delicious adventure. So far I've made: Placek Apple Cake, Pierogi, Cinnamon Babka, Brown Sugar Polish Kielbasa with Apples & Onions and Bialys.
Yesterday I made these amazing Polish Cabbage Rolls in my Crock Pot. I created the recipe for people who are following a Paleo lifestyle diet. If you're not Paleo, you can simply use your favorite ingredients (such as taking a short cut and buying already made gingersnaps!) But if you are eating Paleo, you're going to want to make up a batch of THESE gingersnaps before you gather the cabbage roll ingredients. I made my gingersnaps a day in advance so everything was ready to go when I wanted to make my cabbage rolls. Oh! Many traditional Polish Cabbage Roll recipes say to add cooked white rice to the meat filling, or to serve the rolls on a bed of white rice or mashed potatoes. I omitted rice/potatoes in this recipe, but feel free to add them back if they sound good to you. (The white rice and mashed potato options aren't Paleo.)
***To easily remove the leaves from a head of cabbage: Bring a large pot of water to boil. Carefully place a head of cabbage into the boiling water. Cook it for 15 to 20 seconds. Gently lift the head of cabbage out of the boiling water and place it in a bowl of cold water. Now you'll be able to peel the leaves from the head with ease, and the leaves will be pliable and easy to stuff with your cabbage roll filling.
6 to 8 servings (2 to 3 rolls per person)
12 to 16 large, green cabbage leaves***
for the meat filling:
2 lb. lean ground beef, lightly browned in a skillet (mostly raw meat throughout)
2 cups finely chopped yellow onion, sauteed in olive oil until tender and golden
1/2 cup chopped raisins
1 teaspoon salt
1 teaspoon garlic powder
1 teaspoon dry dill weed
1 teaspoon freshly ground black pepper
1/2 teaspoon nutmeg
1/2 teaspoon dried ginger
2/3 cup chopped/crumbled gingersnap cookies, divided
2 Tablespoons heavy cream
2 large eggs, lightly beaten
In a large, heavy skillet, brown meat slightly, so there is still a lot of raw meat throughout the mixture, and place it in a large mixing bowl. Heat a little oil or butter in the skillet and add the onions, raisins, salt, garlic powder, dill, pepper, nutmeg and ginger. Heat until browned and fragrant. Add this mixture to the meat in the mixing bowl.
While the onion mixture is cooking, place 1/3 cup of the crumbled gingersnaps, cream and lightly beaten eggs in a small bowl. Using a fork, moosh the cookie crumbs until completely broken up and soft. Once soft, add this mixture to everything else in the bowl.
Blot the steamed cabbage leaves with a paper towel to remove excess moisture. Place a cabbage leaf on a plate. Each leaf is a sort of "bowl." Place the leaf bowl side up. Place approximately 1/4 cup of filling at the bottom of each leaf and roll it up (away from you.) Fold in sides, like an envelope and roll up the rest of the way so all of the filling is contained within the cabbage roll. Place cabbage roll in a large, 6 to 7 quart Crock Pot/slow cooker. Repeat this rolling process until you run out of filling, lining up the rolls in the crock as you go. You will have extra cabbage.
for the sauce:
1/4 cup apple cider vinegar OR fresh lemon juice
1 (15 oz.) can petite diced tomatoes
1 (8 oz.) can tomato sauce
1/4 cup raw honey, melted OR brown sugar (which isn't Paleo)
1/2 teaspoon Paprika
Whisk all sauce ingredients in a mixing bowl. Pour over the cabbage rolls in the slow cooker. Sprinkle the remaining gingersnaps over the top of everything. Cover Crock Pot and place on the LOW setting for 7 hours (or until the meat in the rolls is completely cooked through and very hot.)
Place 2 to 3 rolls in each person's bowl. Top with more gingersnap crumbles (if you wish,) a dollop of sour cream/plain greek yogurt (optional),  and a sprinkle of chopped parsley for garnish. Salt and pepper to taste.
Serve with cooked white rice or mashed potatoes, if you wish.
Enjoy!
~Melissa
You may enjoy these related posts: