Print Friendly Version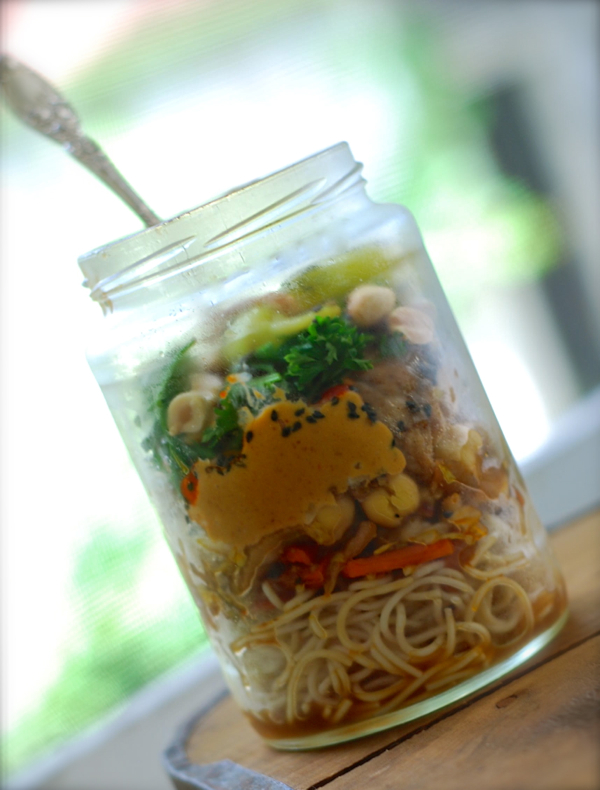 This past summer was definitely the summer of "jar" picnics. We enjoyed quite a few! As summer turns to Autumn, we're still taking salads and meals in jars wherever we go. This is my latest creation.
for 4 thai peanut noodle jars:
4 cups whole grain spaghetti noodles, cooked according to package and chilled
2 large carrots, julienned
1 small onion, fried and chilled
1 cup chickpeas, cooked and drained well
2 large chicken breasts, cooked, chilled and cubed
1 cup peanut sauce/dressing (recipe below)
4 teaspoons black sesame seeds
1 cup fresh, chopped parsley or cilantro
1 cup unsalted or lightly salted peanuts
8 pickled pepproncini peppers
for the peanut sauce/dressing:
1/4 cup peanut butter (I used organic Smucker's)
2 heaping Tablespoons mayonnaise
2 Tablespoons organic BBQ sauce
1 Tablespoon Sriracha hot sauce (I used Trader Joe's)
2 teaspoons sesame oil
2 teaspoons lite soy sauce or Ponzu sauce
2 teaspoons lemon juice
1 teaspoon smoked paprika
1 teaspoon garlic powder
1 teaspoon onion powder
1/2 teaspoon chipotle powder
Layer all prepared ingredients in 4, wide mouth, 24 oz. jars in the order shown. Mix up peanut sauce prior to making up the jars. Cover jars tightly and refrigerate until ready to serve.
Enjoy!
~Melissa
You may enjoy these related posts: