Print Friendly Version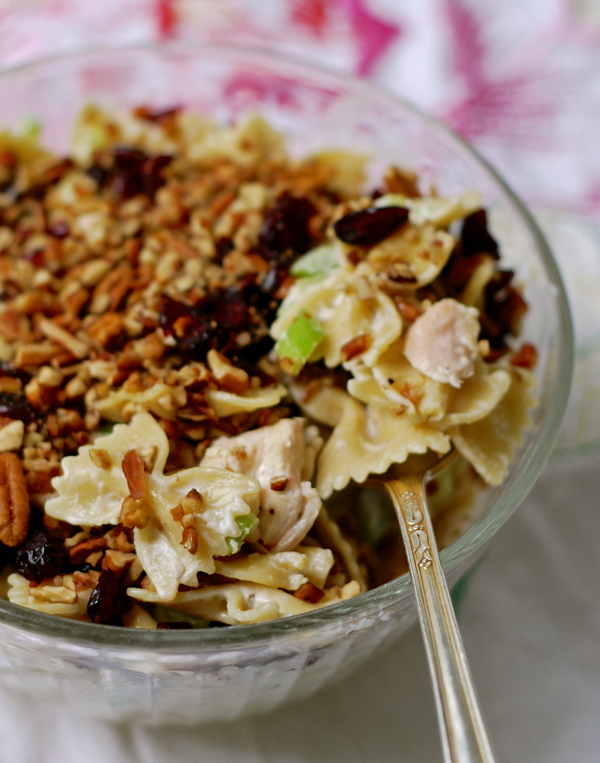 This is by far one of the best pasta salads I've ever made. It's full of delicious flavors and interesting textures. It's very versatile too. You can certainly substitute chicken for the turkey, craisins for the dried cherries, and sugar for the honey.
for the salad:
1 lb. rotini pasta (or bowtie pasta), cooked according to package directions
2 to 3 cups cooked, chilled, cubed turkey (or chicken)
2 cups dried cherries (or cranberries)
1 small onion, chopped fine
4 diced celery stalks
1 to 2 cups slivered almonds (or chopped pecans/walnuts)
Make pasta according to package directions so the pasta is al dente. Don't overcook the pasta. As soon as it's done cooking, drain it immediately and run it under cold water until completely chilled. Drain very well. Toss with the cubed turkey/chicken, dried cherries/cranberries, chopped onion, and diced celery.
for the dressing:
1 to 2 cups real mayonnaise
1/4 cup honey
2 Tablespoons champagne vinegar (or apple cider vinegar)
2 Tablespoons poppyseeds (optional)
2 Tablespoons cold milk
1 to 2 teaspoons sea salt
1 teaspoon freshly ground black pepper
Mix one of the cups of mayonnaise with the honey, vinegar, poppyseeds (if using), milk, salt and pepper. Pour dressing over salad and toss until well combined. If the salad doesn't seem saucy enough for you, add up to 1 cup more mayonnaise. Adjust honey, salt and pepper to taste.
Sprinkle the nuts over the top just prior to serving so they don't get soggy.
Enjoy!
~Melissa
You may enjoy these related posts: