Print Friendly Version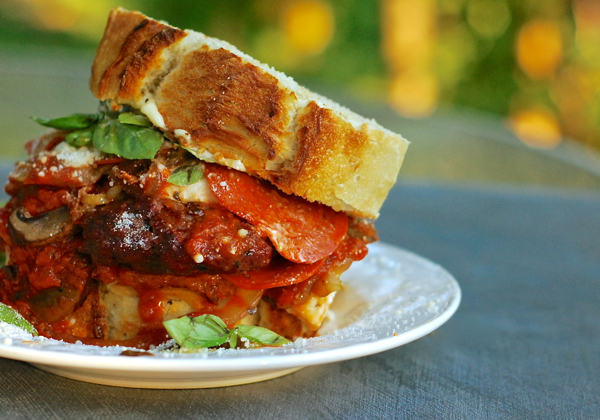 Okay, you have to prepare yourself for this one. It's truly magnificent and reminiscent of what my Italian grandma, Darling, calls a "Hot Dago Sandwich." If you like meatballs, and you LOVE Italian, you're going to go bonkers over this burger.
serves 3 to 4 people
1 loaf crusty Italian bread, cut into thick slices
1 lb. ground chuck
2 heaping Tablespoons fresh basil pesto
1 head oven roasted garlic, cooled
1/3 cup real mayonnaise
8 oz. sliced baby bella mushrooms, washed and patted dry
1 small onion, sliced
1/2 cup dry white or red wine
2 Tablespoons butter
4 to 6 oz. fresh Mozzarella cheese, sliced
8 oz. of your favorite pizza sauce
1 cup sliced pepperoni
a handful of fresh basil, washed and patted dry
In a mixing bowl, combine the ground chuck with the fresh pesto until mixed well. Form into 3 or 4 patties (depending on how many people you're serving.) Grill patties until desired doneness (we like ours medium-rare.)
In a skillet, saute the mushrooms and onion in the butter until tender and slightly sticky, and the mushrooms have reabsorbed their juices. Deglaze pan with the wine and cook just until the mushrooms have reabsorbed the liquid a second time.
Warm the bread in an oven and slice it thick. Combine the cooled, oven roasted garlic with the mayonnaise, mashing the cloves as you go. Place a piece of bread on each person's plate. Spread the bread with some of the oven roasted garlic mayo and layer the rest of the ingredients in this order:
fresh Mozzarella
pizza sauce
mushroom-onion mixture
pepperoni
burger
fresh basil
Mozzarella
pizza sauce
musroom-onion mixture
pepperoni
fresh basil
mayo
bread
Enjoy!
~Melissa
You may enjoy these related posts: