Print Friendly Version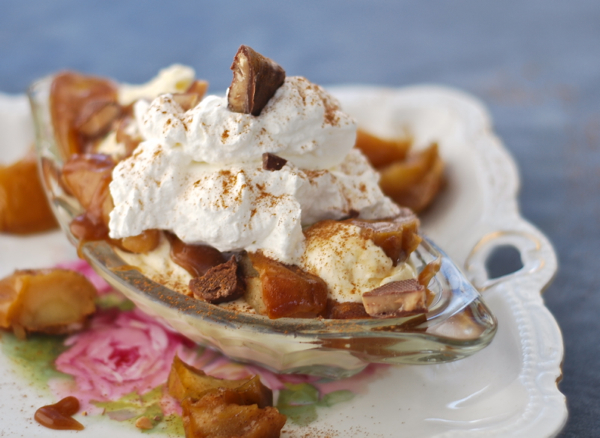 I waited to make one of these decadent sundaes to photograph until just before Gracie got home from school. I handed it to her shortly after she walked through the door, and her eyes lit up. I love doing that. One of the perks of being a food photographer. Always something amazing to photograph and eat. And I can surprise my favorite people with my outrageous inventions.
This is easy enough to make, but there are a few steps, so I'll just go through each layer with you one by one. This makes 3 big sundaes.
First you'll want to bake up your apples. Go to THIS POST for the recipe. Allow the apples to cool while you make the salted cinnamon caramel. Then cut the apples into big chunks.
for the salted cinnamon caramel:
1/2 cup butter
1/2 cup brown sugar
splash of cream
sprinkle of cinnamon
coarse sea salt
Place the butter, sugar, cream and cinnamon in a small saucepan. Stir constantly over low heat until the mixture begins to bubble. Stir until the sugar is dissolved and the mixture thickens some (about 5 minutes.) Remove from heat and allow to cool a bit.
Scoop pure vanilla bean ice cream into bowls, sundae boats or tulip cups. Top with some of the baked apple pieces, a generous drizzle of caramel, a sprinkle of coarse sea salt and a generous dollop of Sherry Whipped Cream.
for the sherry whipped cream:
Pour a pint of heavy whipping cream into the bowl of a tabletop mixer and whip, using the whisk attachment, until the cream holds soft peaks. Add 2 Tablespoons cream sherry and 2 Tablespoons powdered sugar. Continue to whip until stiff peaks form. Serve. Cover the rest and refrigerate. (The extra cream is wonderful on waffles or pancakes with fresh or canned fruit!)
Once you top the sundae with the Sherry Cream, scatter big chunks of Heath or Skor candy bars (or homemade toffee) on top of the sundae. Sprinkle sundae with a little cinnamon. Serve!
Enjoy!
~Melissa
You may enjoy these related posts: