Print Friendly Version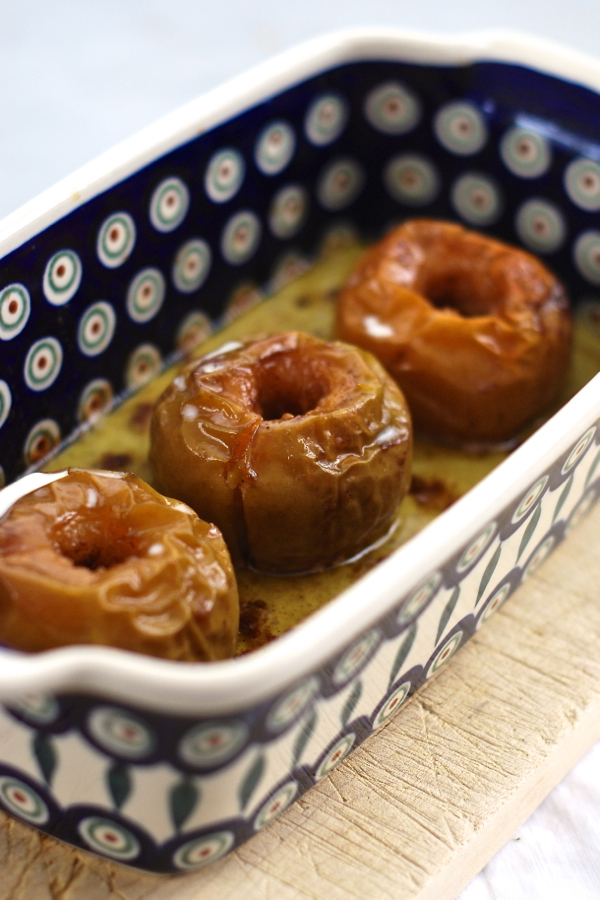 I spent most of the day writing, and am just now surfacing to write a blog post to share with all of you. Sometimes it's hard to switch gears after a day of intense creativity, know what I mean?
I made these delicious baked apples with cream last week as a side dish for a new pork roast recipe I invented. They turned out perfect. Jeff likes them when the "caramel" gets almost burnt. To achieve that, just let them go longer and continue to baste them with the brown sugar/butter mixture until it turns thick, sticky and black. Scrape as much as you can over the apples and serve warm with cream poured over the top….
or…you can make them this way…
3 to 4 medium size apples, unpeeled and cored
1/4 cup butter
1/4 cup brown sugar
1/2 teaspoon cinnamon
cream
Place apples in a small, glass baking dish. Stuff each apple with a little of the butter and brown sugar and place the rest of the butter and brown sugar around the apples. Sprinkle with the cinnamon and bake at 375 degrees F. until the apples are very soft, and the skins are wrinkled. Roll the apples around in the sauce to coat a few times during baking. Remove the apples to little serving bowls and place the sauce in a saucepan. Cook over medium heat until reduced and sticky like caramel. Pour a little of the sauce over each apple and top with cream.
Enjoy!
~Melissa
You may enjoy these related posts: