Print Friendly Version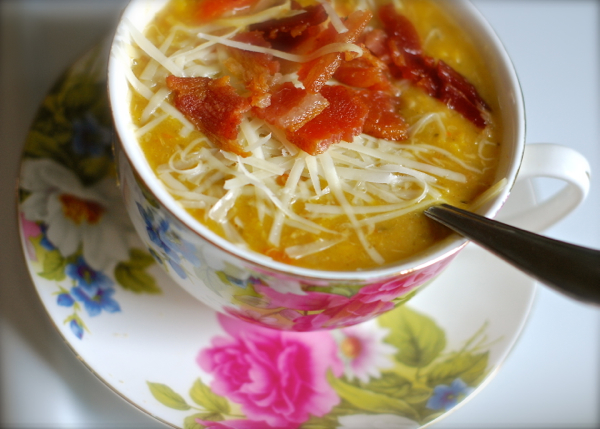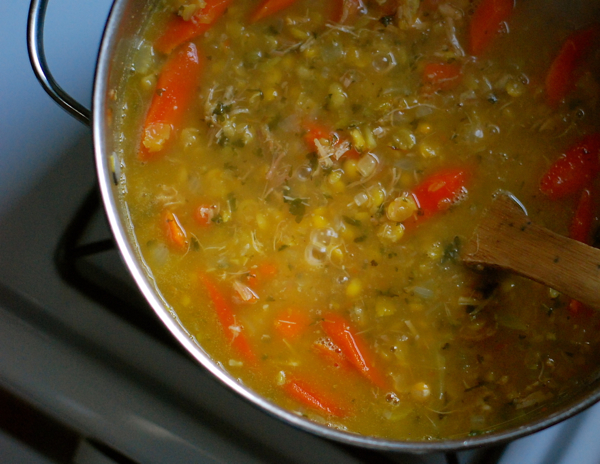 After consolidating my collection of 80 soup recipes here on my blog so I could share it with all of you, I quickly got to work on a part 2.
This lovely soup is the first recipe in that grouping. Before long I'm sure I'll have another 80. Hee hee.
I don't know what it is about split pea soup but it's one of my favorite comfort foods. It adapts well to so many different flavors. Sometimes I add curry, sometimes I add cumin and other Mexican spices, but this time I wanted bacon and sharp, Parmesan cheese. Oh my. It's so good. I drizzled a little sriracha hot sauce on mine, which is what I do with most of my food, but it's good with just a little black pepper too.
1 lb. yellow split peas
8 cups chicken or vegetable stock
1 lb. bacon, cooked until crispy and crumbled, (reserve 4 Tablespoons drippings)
1 large onion, chopped
2 cups finely chopped celery + some of the green tops
6 large carrots, peeled and sliced
1 large clove garlic, minced
1 teaspoon fresh thyme leaves
1 large bay leaf
water (to dilute, if needed)
fresh shredded Parmesan cheese
salt and pepper, to taste
Sriracha hot sauce (optional)
Wash and sort the split peas. Place in large soup pot. Set aside.
Fry bacon until crispy. Transfer to a paper towel-lined plate. Set aside to cool.
Place 4 Tablespoons of the bacon drippings in a large, heavy skillet. Heat over medium flame. Saute the onions, celery and carrots in the drippings until tender and translucent. Add garlic. Cook an additional 30 seconds. Transfer these veggies to the soup pot. Add thyme, bay leaf and stock. Bring to boil, and then reduce to a gentle simmer. Cover and cook for 40 to 60 minutes, stirring occasionally, until peas are tender. Thin with water, if needed. Season to taste with salt and pepper.
Ladle into bowls or large mugs. Top with crumbled bacon, shredded Parmesan cheese, and a little hot sauce (if using.) We love this with crusty, warm, buttery garlic bread! Such a cozy supper.
Enjoy!
~Melissa
You may enjoy these related posts: