Print Friendly Version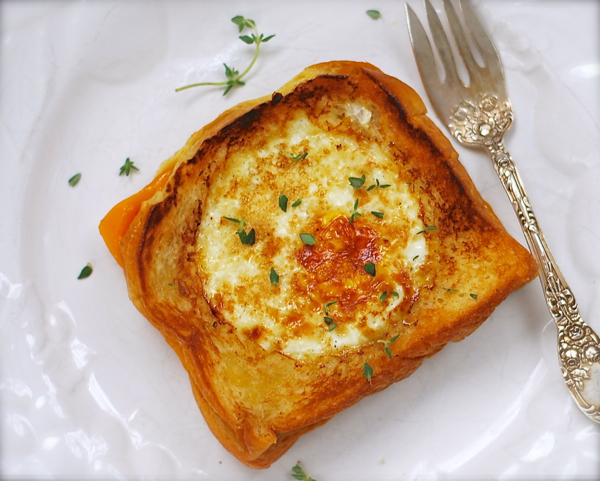 This was a lovely breakfast offering for my hubby's 45th birthday. We enjoyed dunking the soft, buttery, sweet brioche into the warm egg yolk and melty cheese. These sandwiches were the perfect accompaniment to our morning tea.
The only tricky part about making these sandwiches is getting the flame under the skillet to the right temperature so your egg sets and cooks to your liking before the brioche burns. It may sound difficult, but you'll get the hang of it after making one.
These are especially good with crispy, fried, thick cut bacon.
~ for 1 sandwich ~
2 slices soft brioche, potato or cottage bread
2 to 3 teaspoons unsalted butter
thin slices of sharp cheddar or Gruyere cheese
1 large egg

coarse sea salt and freshly ground black pepper, to taste
fresh thyme for garnish
Heat a heavy, nonstick skillet over low heat. Cut a 2 inch hole in the center of one of the slices of bread. Butter this slice on both sides. Place it in the hot skillet. Put a dab of butter in the hole (right on the surface of the skillet) and allow it to melt. Crack an egg into the hole. Once the white is set enough, gently flip the bread and egg.
Butter the other slice of brioche on one side, and place this slice, butter-side-down, on the skillet next to the other piece. Place cheese slices on top.
Once the egg is set to your liking, (and watching the bread so it doesn't burn) Set the egg slice over the cheese slice. Cook just until cheese is melted. Plate, salt and pepper to taste, and garnish with the fresh thyme leaves.
Enjoy!
~Melissa
You may enjoy these related posts: