Print Friendly Version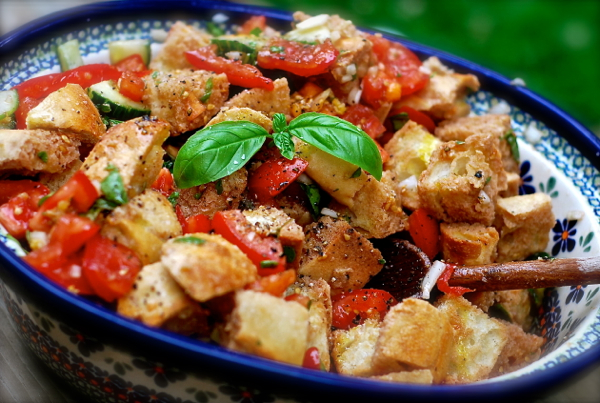 We like to make this traditional Italian salad using day old baguette or Italian boule. You'll need the equivalent of one whole loaf for this, so if you don't happen to have that much, it's easy enough to dry out your bread cubes in the oven or on the grill. If you like bruschetta, you'll love this. It's got all the fresh, summery flavors of bruschetta, but all in one bowl!
1 loaf Italian bread or baguette, cubed
3 large cloves garlic, minced
6 medium, perfectly ripe tomatoes, chopped
1 cup cucumber, chopped
1 cup red, yellow or green onion, chopped
1 and 1/2 cup fresh basil, chopped
1/2 cup fresh parsley, chopped
2 Tablespoons fresh oregano, chopped
2 Tablespoons fresh thyme, chopped
1/3 cup extra virgin olive oil
2 Tablespoons balsamic vinegar
2 Tablespoons dry white wine (optional)
sea salt and freshly ground pepper, to taste
If your bread isn't already dry, spread cubes on a large baking sheet in one layer. Bake at 300 degrees for 10 minutes or just until dry. (OR… if you have your grill going, slice the bread and lay it on the cool side of the grill until toasted. Watch closely so your bread doesn't burn. Grilling the bread adds tremendous flavor to this salad! Cut grilled bread slices into cubes.) Set aside.
Combine bread, vegetables and herbs in salad bowl.
In a small bowl, combine oil, vinegar and wine. Pour dressing over salad and toss well to evenly coat everything. Salt and pepper to taste. Serve.
Enjoy!
~Melissa
You may enjoy these related posts: