Print Friendly Version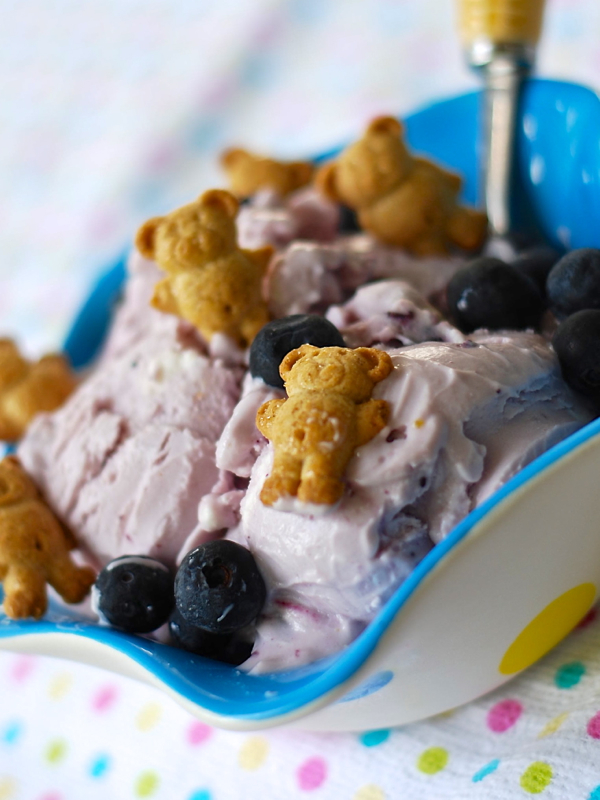 I've decided that I like homemade frozen yogurt more than I like homemade ice cream. It's much healthier than ice cream, but that's not the only reason I like it more. It tastes better and lighter, it's super creamy without being fatty, and it's SO much easier to make! No cooking required because it doesn't contain eggs, and therefore, no pre-chilling of the ingredients before you freeze them in your ice cream maker. I love that I can dream up a recipe and make it in less than a half hour from start to finish. Just start with all cold ingredients right out of the fridge, and you'll see what I mean 🙂
2 and 1/2 cups cold, plain greek yogurt (any fat content is fine)
8 oz. cream cheese, lite cream cheese or Neufchatel, softened to room temp.
1/2 cup cold blueberry pie filling
1 cup fresh blueberries
1/2 cup sugar
1 teaspoon pure vanilla extract
Teddy Grahams + extra fresh blueberries for garnish
Mix everything, except for garnishes, in a large mixing bowl until well combined.
Place in the freezer bowl of your ice cream maker and process according to manufacturer's directions (I set my timer for 20 minutes.)
Garnish and enjoy immediately, or place in a freezer-safe container. Cover and freeze for 2-4 hours for a firmer frozen yogurt. If you have this in the freezer longer than 4 hours you may have to allow your frozen yogurt to sit on the counter to warm up a bit so it becomes scoopable again.
Enjoy!
~Melissa
You may enjoy these related posts: