Print Friendly Version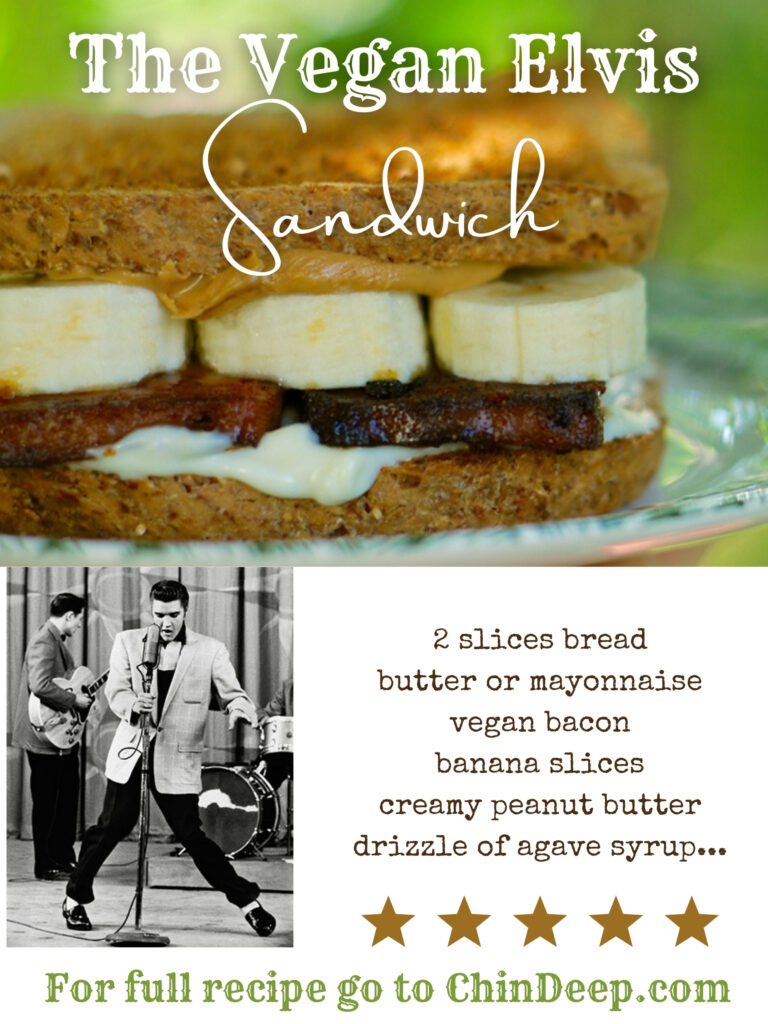 What is an Elvis Sandwich?
Here, Southern Living Magazine sheds more light on the history of the King's favorite sandwich!
I love it so much that I had to make a vegan version, and now you can too!
This sandwich is creamy, salty, smoky, and sweet. The tofu bacon is chewy, and delicious and perfect. Totally craveable. Yummmmm. Honestly, I enjoy my vegan version more than the original. Don't be afraid to use vegan mayonnaise in place of butter. It makes the sandwich truly outstanding.
Use the best ingredients you can find. I like to use crusty sourdough or Ezekiel bread and I like my bread really toasted.
To make this even more decadent, butter up those bread slices and grill it in a skillet like you would a grilled cheese sandwich. Oh yeah.
for one Elvis Sandwich:
2 pieces of your favorite bread, toasted
vegan butter OR vegan mayonnaise (we love Vegenaise)
tofu bacon (recipe below) or your favorite vegan bacon, cooked crispy
banana slices
your favorite creamy peanut butter
a drizzle of agave syrup
Put sandwich together as shown (ingredient are listed in order of how to stack it up.)
For the vegan tofu bacon:
~ preheat oven to 425 degrees F. ~
1/4 cup low sodium soy sauce
2 Tablespoons pure maple syrup
1 Tablespoon liquid smoke
2 teaspoons smoked paprika
a pinch of cayenne pepper
a few grinds of fresh black pepper
14 oz. extra firm tofu (I like Trader Joe's double protein tofu for this)
Press the tofu in advance to remove excess liquid, and then thinly slice it. Mix the marinade ingredients in a small cake pan with a lid. Place the tofu slices in the marinade and allow them to marinate for 15 to 30 minutes (or even over night.)
Line a large baking sheet with a Silpat mat or cooking parchment. Place the tofu slices on the baking sheet so they're not touching.
Bake 15 minutes. Flip. Bake an additional 15 minutes. Brush the slices with the excess marinade as they cook.
The tofu bacon should be dark and dry when it comes out of the oven, so cook it a little longer if you need to. It will crisp up a bit as it cools.
Enjoy!
~Melissa
You may enjoy these related posts: