Print Friendly Version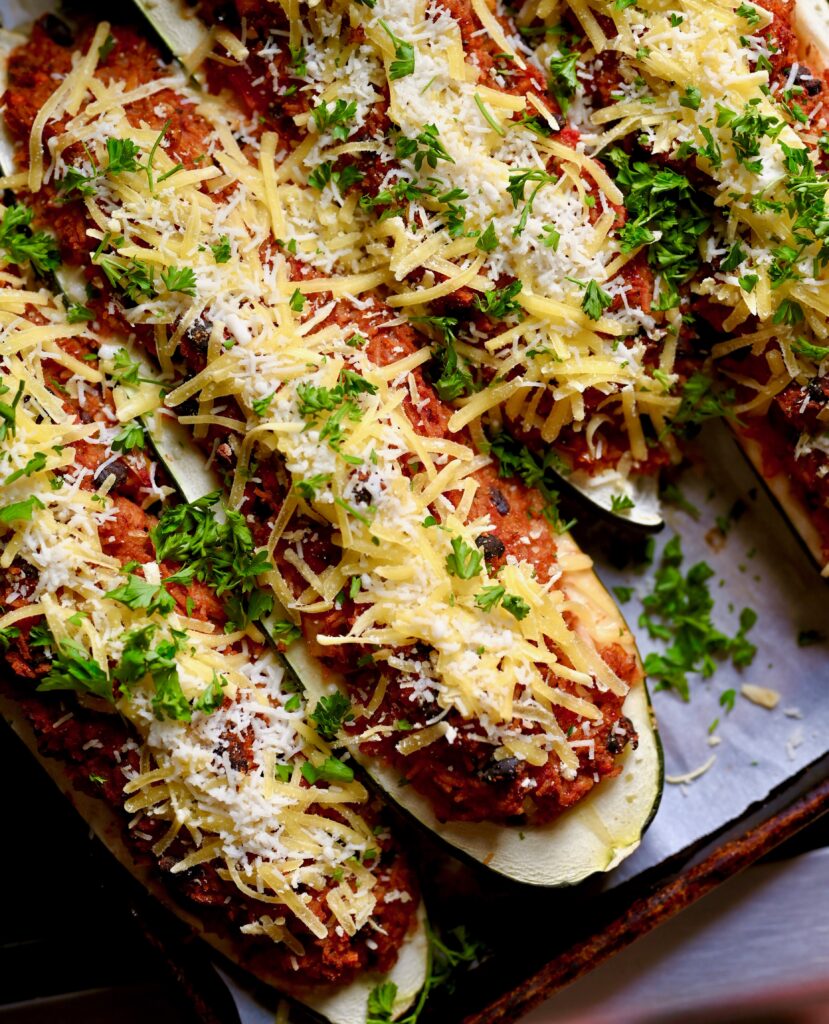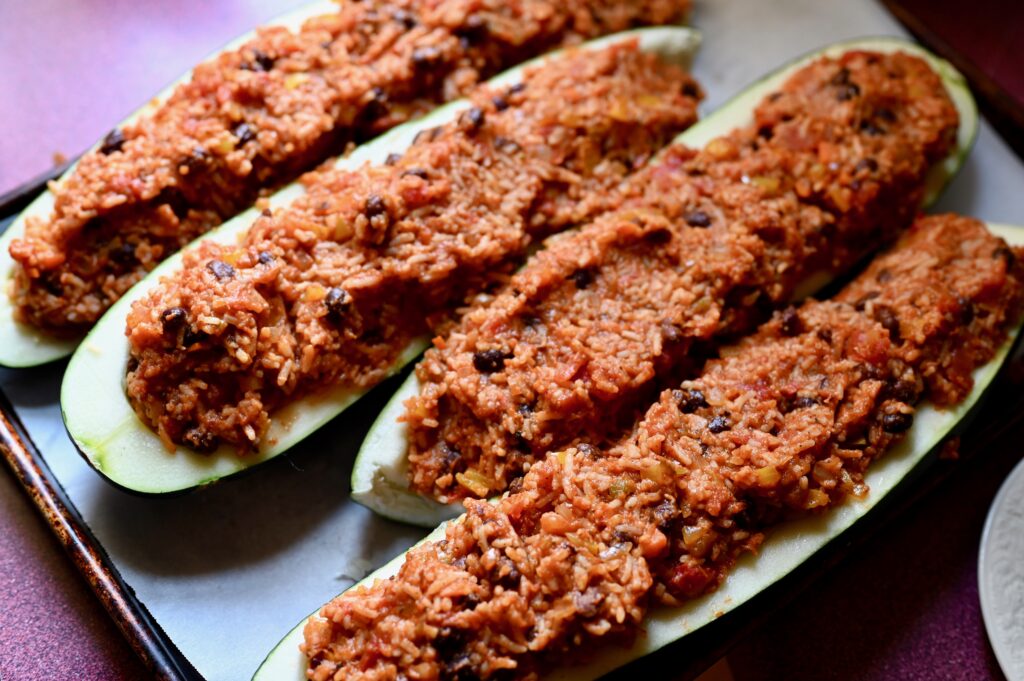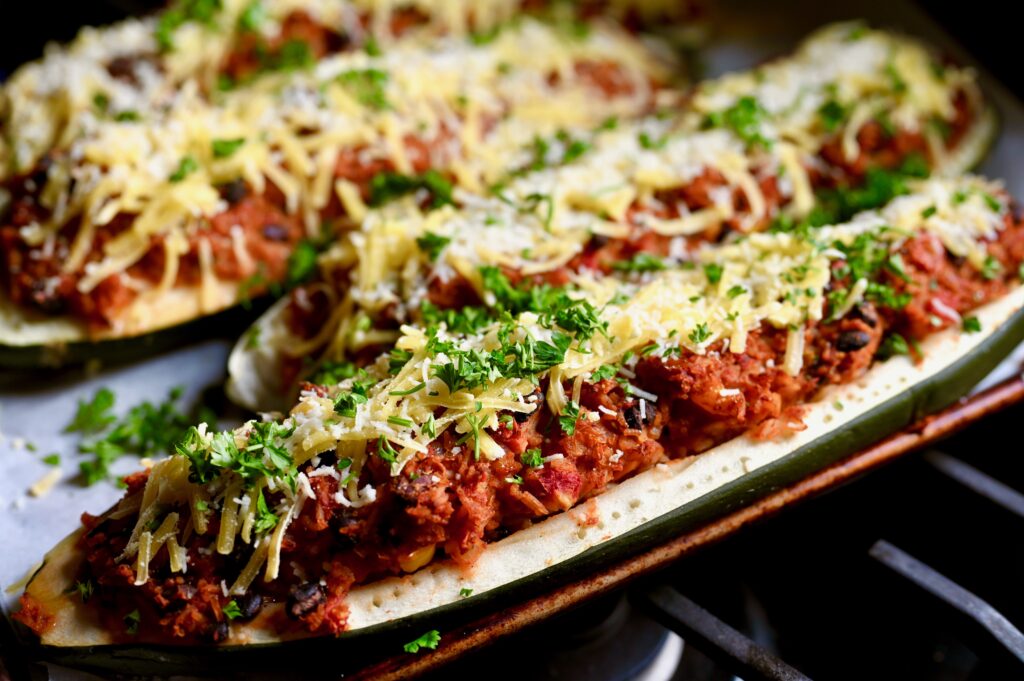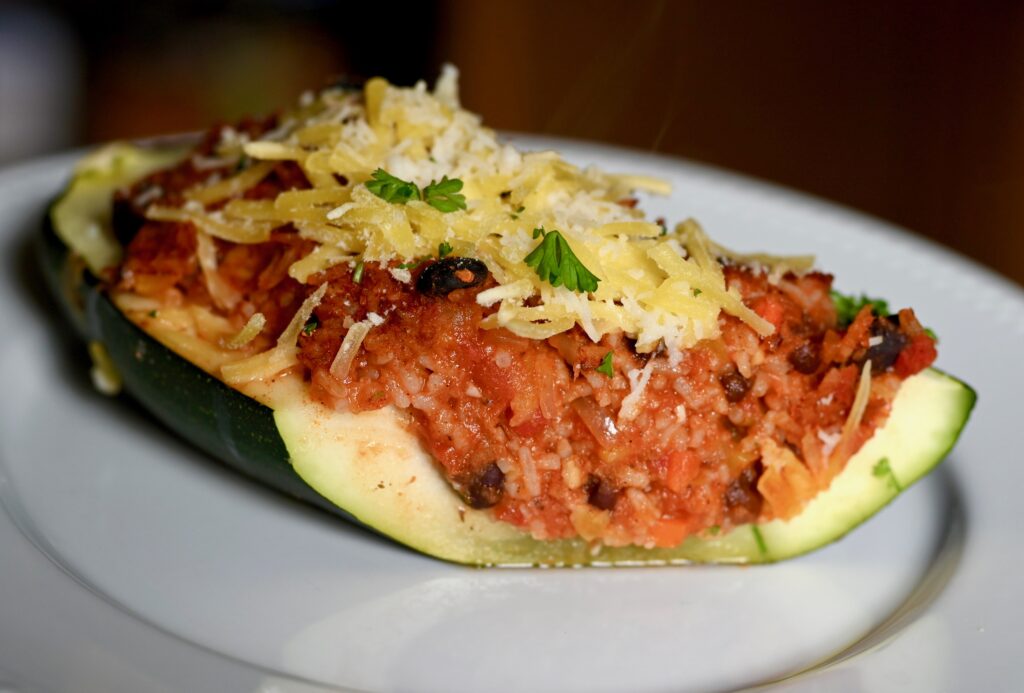 Hello Friends!
Here's another amazing recipe for all of those zucchinis you have growing in your garden. I've created other zucchini boat recipes prior to going vegan that can easily be veganized if you're looking for inspiration. Everyone loves Pizza Zucchini Boats, Taco Zucchini Boats, and Lebanese stuffed zucchini (known as Kousa Mihshi.)
Last night I made some of these Spanish Rice-Stuffed Zucchini Boats and they were delicious! Super healthy with just a little vegan cheese melted over the top. You could omit the cheese if you like and serve the zucchini boats with dollops of cashew cream instead if you're looking for a whole foods, plant based version.
I started with two cups of uncooked rice and cooked it in 4 cups of water (per the directions on the package.) This yields close to 6 cups of cooked rice. I ended up with a little leftover Spanish rice, but I had two HUGE zucchinis to fill. If you're just filling a few normal size zucchinis, feel free to cut this recipe in half. Unless, of course, you want to be eating Spanish rice all week long.
If you want some other amazing recipes for zucchini delicacies you can try: Perfect Pineapple Zucchini Bread, Refrigerator Zucchini Pickles, Carrot Cake Zucchini Bars, Zucchini Spaghetti (zoodles,) Chocolate Chip Zucchini Muffins, or Chocolate Zucchini Cake!
Okay. Let's stuff some zucchini!
~ preheat oven to 350 degrees F. ~
2 BIG zucchinis (or a bunch of small ones)
6 cups cooked white rice (I used Basmati)
1 Tablespoon olive oil
1 big onion, chopped fine
1 big bell pepper, chopped fine (I used a sweet, yellow one)
1 big carrot, peeled and diced small
4 large garlic cloves, minced
1 (4 oz.) can green chiles, undrained
2 (10 oz.) cans Rotel Tomatoes (or petite diced tomatoes)
2 (15 oz.) black beans, drained and rinsed well
24 oz. Marinara sauce
2 Tablespoons lite soy sauce
2 Tablespoons Sriracha hot sauce
3 to 4 Tablespoons taco seasoning (packaged or homemade. Recipe below)
8 oz. shredded vegan cheese (like Chao, Violife, Daiya, or Follow Your Heart)
fresh parsley or cilantro for garnish
Cut zucchinis in half lengthwise and scoop out center seeds and flesh. Discard. Leave a 1/2 inch wall around edges of zucchinis. Sprinkle a little salt all over the inside of the boats.
Make rice according to package directions. Fluff with a fork. Transfer to a large mixing bowl.
Heat olive oil in a large skillet. Once hot, add: the onion, bell pepper, and carrot. Saute over medium heat until tender and slightly golden. Add garlic and cook an additional minute or so. Add this to the rice in the bowl along with the chiles, tomatoes, black beans, marinara, soy sauce, Sriracha, and taco seasoning. Gently mix to combine. Taste and adjust seasonings if needed.
Wipe/pat out excess moisture that has gathered in the zucchini boats. Stuff the zucchini boats with the Spanish rice. I mound it up a bit (see photo above.)
If you're making the really big zucchinis you'll want to let them bake for about 45 to 50 minutes. Just until flesh is very tender but still firm (not mushy.) Add the cheese during last 10 minutes of cooking time so it gets a chance to melt but not burn.
for the homemade taco seasoning:
2 teaspoons Original Mrs. Dash seasoning
1 Tablespoon dry oregano
3 Tablespoons mild chili powder (Ancho is awesome!)
3 Tablespoons smoked paprika
1 Tablespoon onion powder
2 teaspoons garlic powder
1 teaspoon cumin (or more, to taste)
a few dashes of cayenne pepper, optional
Mix well and add to anything that calls for taco seasoning.
Allow zucchini boats to cool for 15 minutes prior to cutting into portions, garnishing with the parsley or cilantro, and serving.
Enjoy!
~Melissa
You may enjoy these related posts: