Print Friendly Version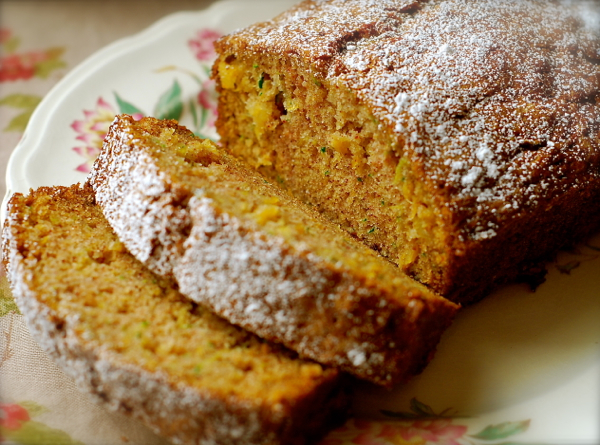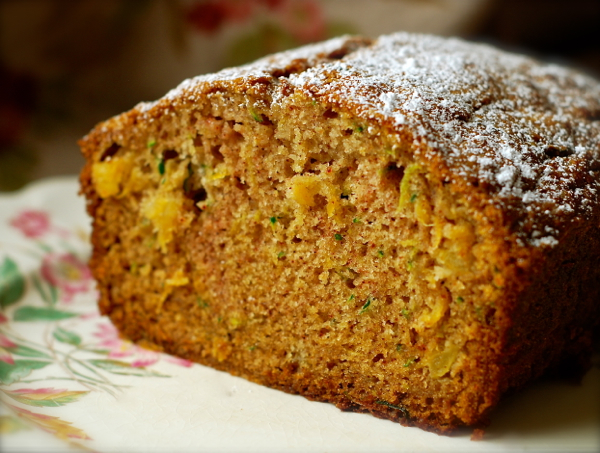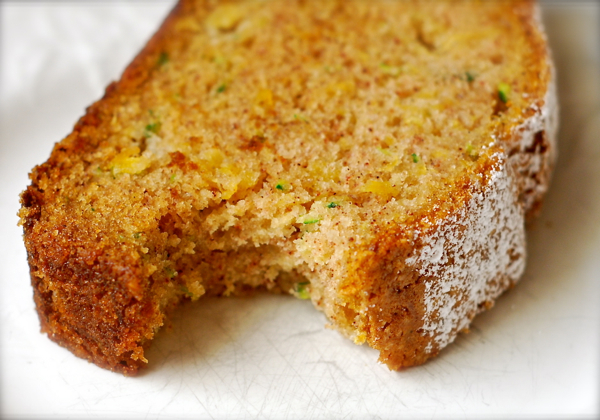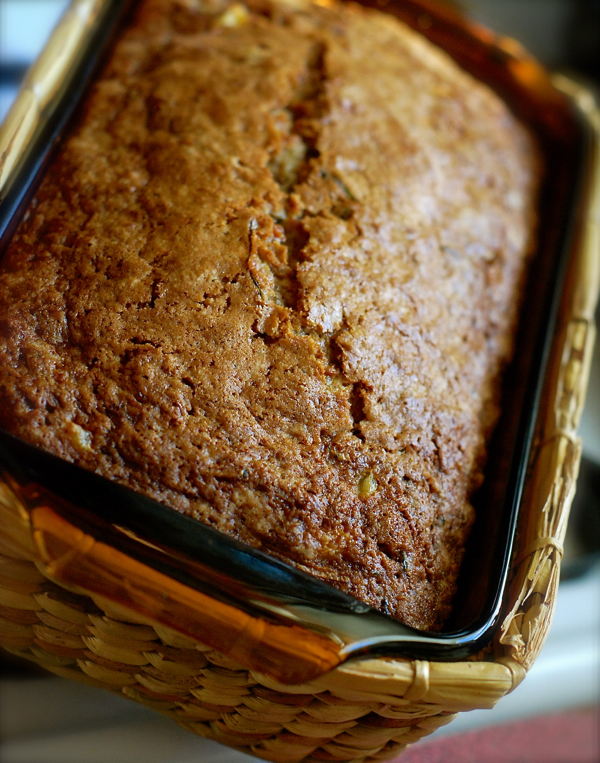 There's something that happens when you add pineapple to zucchini bread. Not only does the bread become more moist and sweet, you can really taste that fresh, tropical, pineapple flavor! I like this bread without too much embellishment, but you could add some raisins and/or chopped nuts to the batter if you wish. I'd say up to 1/2 cup of each would be fine.
~ preheat oven to 350 degrees F. ~
1 cup sugar
1/2 cup light olive oil or vegetable oil
2 large eggs, lightly beaten
1 and 1/2 cups all purpose flour
1 and 1/2 teaspoons baking soda
1/2 teaspoon baking powder
1/2 teaspoon salt
1 teaspoon cinnamon
1/2 teaspoon gingerbread spice OR ground ginger
1 packed cup shredded zucchini
1/2 cup well drained, packed cup crushed pineapple
2 teaspoons pure vanilla extract
Generously butter a 9×5 loaf pan.
Beat sugar and oil until combined. Add eggs, one at a time, beating each just until blended.
In a separate bowl, using a wire whisk, combine:  flour, baking soda, baking powder, salt, cinnamon, and gingerbread spice. Add dry ingredients to wet ingredients. Beat until just blended. Don't overmix. Stir in zucchini, pineapple, vanilla, and other ingredients (if using.) Stir just until evenly distributed. Pour into prepared loaf pan. Bake for 50 to 60 minutes, or just until a wooden skewer comes out with a few moist crumbs when inserted into the center of the loaf.
Cool bread in pan for 15 minutes before removing and allowing to cool completely on a wire rack. Dust completely cooled bread with a little powdered sugar, if you wish!
Enjoy!
~Melissa
You may enjoy these related posts: