Print Friendly Version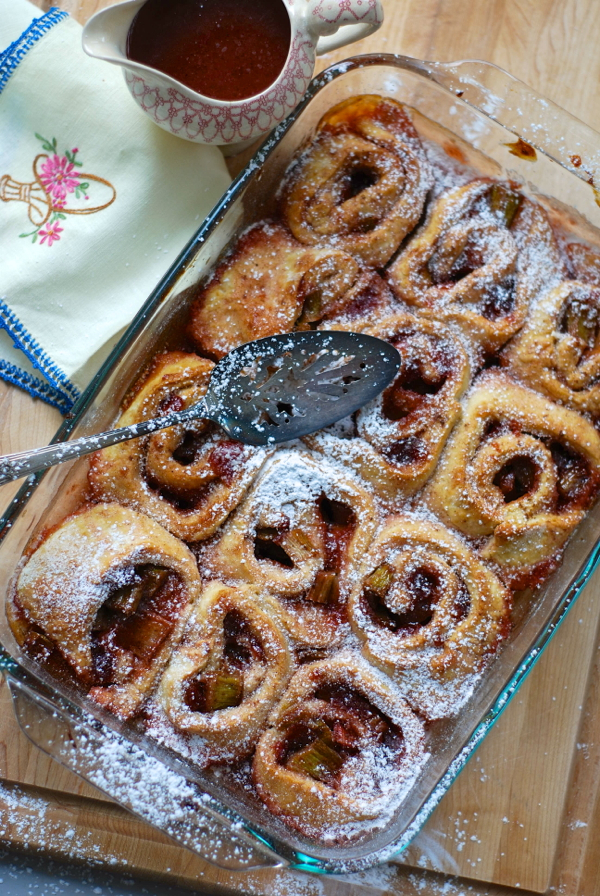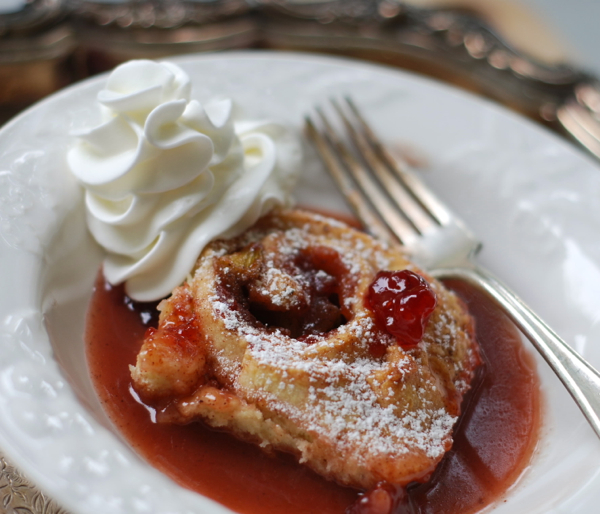 Whew! I got my 3 mile "walk/run" in before the storm hit. That was a CLOSE one. It's crazy like a rainforest out there right now…dark as night and so humid it feels like the jungle. I've actually been to a rainforest so I know what I'm talking about 😉 This is just like that minus the palm trees and weird bugs.
I've been busy in the kitchen today (again.) Hard at work developing recipes and taking photos for my TEA book! Yep. Still working on that. Some day I will finally be done. It's a labor of love though, and I really am enjoying the (very long) journey. Do I sound like I'm complaining? hmmmmm…..
So, I got up and made these ummy jummy cherry rhubarb dumplings for our dessert tonight. We have exactly one cup of rhubarb left in the freezer. I can't believe I actually used all of that rhubarb. The freezer was packed tight with ziplocs full of it a couple weeks ago. It was fun creating new nibbles and noshes with this tart fruit. Jeff has plans for that last cup… He has a very yummy idea. I'll keep you posted.
~ preheat oven to 350 degrees F. ~
for the sauce:
1 and 1/2 cups sugar
1 Tablespoon all-purpose flour
1 teaspoon cinnamon
1/4 teaspoon nutmeg
1/4 teaspoon salt
1 and 1/2 cups water
1/4 cup butter
1 teaspoon pure vanilla extract
3 drops red food coloring or 1 Tablespoon cherry juice (for color)
In a saucepan, mix sugar, flour, cinnamon, nutmeg, salt and water. Stir in butter. Bring to a boil, stirring frequently. Once it reaches a boil, turn heat down to medium and stir for one minute. Remove from heat. Stir in vanilla and coloring/cherry juice. Set aside to cool while you make the filling and dough.
for the filling:
3/4 cup whole cherry preserves
1 cup rhubarb cut into small pieces
2 Tablespoons melted butter or canola oil
1/2 cup sugar
1 teaspoon cinnamon
1/4 teaspoon salt
Mix all in a small bowl. Set aside until you're ready to fill the dumplings. If using frozen rhubarb, defrost in microwave until just thawed. Pour excess liquid off, squeezing gently, and discard liquid.
for the dough:
2 cups all-purpose flour
2 Tablespoons sugar
2 teaspoons baking powder
1/2 teaspoon salt
3 Tablespoons cold butter
3/4 cup milk
Mix all dry ingredients together in a mixing bowl. Cut in butter to form coarse crumbs. Add milk. Mix quickly just until dough forms. Don't over-mix or your dough will become tough. Gather into a ball and roll out on a floured pastry board into a 9 x 12 rectangle. Spread filling over the dough, all the way out to the sides. Gently roll up dough, jellyroll style, starting from a long side. Place on cutting board, seam side down. Cut into 12 pieces and arrange them, evenly spaced, in a 9 x 13, glass baking dish. Pour half of the sauce over and around dumplings. Bake in 350 oven for 35 to 40 minutes until golden brown.
To serve: cool dumplings for about 5 minutes. Place dumplings in shallow bowls with a little extra sauce poured around them. Sprinkle lightly with a little powdered sugar, and top with some whipped cream or a drizzle of heavy cream.
Enjoy!
~Melissa
You may enjoy these related posts: