Print Friendly Version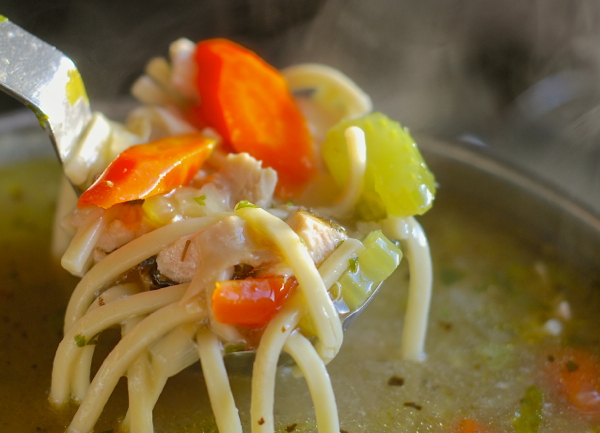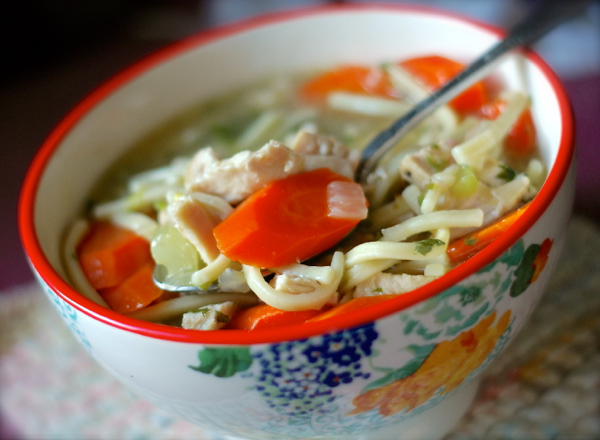 In my opinion, there's no such thing as too many soup recipes. I was feeling a bit under the weather this past week and the only thing that sounded good was this chicken noodle soup. Upon first glance it might look pretty average, but the addition of a couple unique spices, garlic, and Kluski dumpling noodles set it apart. The cornstarch in this recipe creates a thicker, silkier, velvety broth that I love. It's SO good, and perfect for a cozy soup supper. Use homemade chicken stock if you have it, or have the time to make some.
Tip: For a shortcut, use all of the meat from a deli rotisserie chicken for this recipe! Fast and easy! Save the bones and skin in a freezer bag for the next time you want to make homemade stock.
~ serves 8 ~
12 cups homemade chicken stock (or store bought, if you must)
1 teaspoon poultry seasoning
1 teaspoon Lawry's seasoned salt
1 Tablespoon oregano
2 bay leaves
2 Tablespoons olive oil
2 large stalks celery + green tops, chopped
1 large onion, chopped
4 large carrots, peeled and sliced on the diagonal
3 large garlic cloves, minced
1/2 cup fresh parsley, chopped
1/3 cup cornstarch
1/4 cup cold water
6 cups cooked chicken, shredded or diced
16 oz. thin, Kluski dumpling noodles (or your favorite egg noodles)
salt and white pepper, to taste
Combine stock, seasoned salt, poultry seasoning, oregano, and bay leaves in a large, heavy stock pot. Bring to boil over medium heat.
While waiting for stock to boil, saute the celery, onion and carrots in the olive oil in a large, heavy skillet. At the end of the cooking time add the garlic and cook an additional minute. Remove from heat.
When stock starts to boil add the sauteed veggies and parsley. Reduce heat. Cover and simmer for 15 minutes. Combine cornstarch and water in a small bowl. Gradually add it to the simmering soup, stirring constantly with a wire whisk. Stir in chicken and noodles. Cook until noodles are done and the soup is hot. Remove bay leaves. Salt and pepper, to taste. (approximately 10 minutes.)
Enjoy!
~Melissa
You may enjoy these related posts: