Print Friendly Version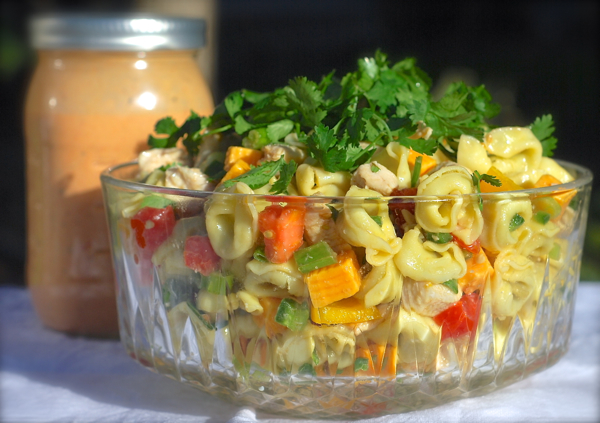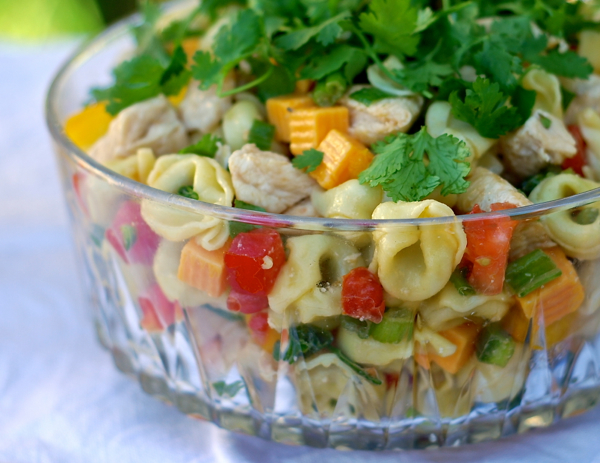 You know how I am constantly eating tacos and posting taco recipes? Like a nut? Well I was craving tacos and tortellini salad at the same time and couldn't make up my mind. I figured taco flavors would probably work well in a tortellini chicken salad, so I tried it. I was right! This recipe has it all. Now I don't have to pick between tacos and pasta, and neither do you. You're welcome.
You could mix up some of your favorite ranch dressing with taco seasoning and salsa if you don't feel like making the Fiesta Ranch Dressing that I poured over ours. It really is soooooo good though…
for the salad:
12 oz tortellini pasta (I used Barilla spinach cheese for this recipe)
1 big ripe tomato, diced OR 1 pint cherry tomatoes, halved
1 small sweet yellow bell pepper, seeds and stem removed, chopped
5 green onions, sliced (including the green tops) OR 1/3 cup chopped red onion
8 oz. sharp cheddar cheese OR pepper jack cheese, cubed
2 jalapeno peppers, seeds and stems removed, chopped fine
3 to 4 cups cooked, completely cooled chicken, cut into bite size chunks
shredded lettuce (optional)
fresh cilantro, chopped (optional)
Fiesta Ranch Salad Dressing (recipe below)
Cook tortellini according to directions on package for al dente pasta. Once done cooking, rinse gently under cold water until almost completely chilled. Drain well and transfer to a large mixing bowl. Toss with a little olive oil and place in refrigerator until completely cold.
Once the pasta has chilled all the way, mix it with the tomato, bell pepper, onion, cheese, jalapenos, and cold cooked chicken. Toss gently to combine. Pour the Fiesta Ranch Dressing over the top and toss gently so everything is coated evenly. Cover and refrigerate salad until ready to serve.
Once ready to serve you can shred up some lettuce and put a little on individual serving plates. Top each bed of lettuce with some of the pasta salad and garnish with chopped cilantro, if you wish.
for the Fiesta Ranch Salad Dressing:
2/3 cup prepared salsa (fresh or homemade)
1/2 cup real mayonnaise
1/2 cup plain Greek yogurt
1/2 cup grated Parmesan cheese
1 Tablespoon Dijon mustard
1 Tablespoon hot sauce (I used sriracha)
1 Tablespoon cumin
2 teaspoons oregano
1/2 teaspoon freshly ground black pepper
1 teaspoon smoked paprika
a generous squeeze of lime juice (or lemon juice)
buttermilk (approximately 1/4 cup)
Place all dressing ingredients, except for the buttermilk, in a large mixing bowl. Mix well using a wire whisk. Thin to desired consistency with buttermilk. Pour all of the dressing over the tortellini salad.
Enjoy!
~Melissa
You may enjoy these related posts: