Print Friendly Version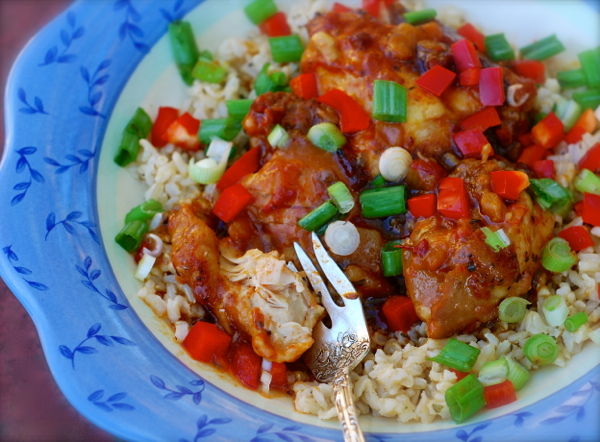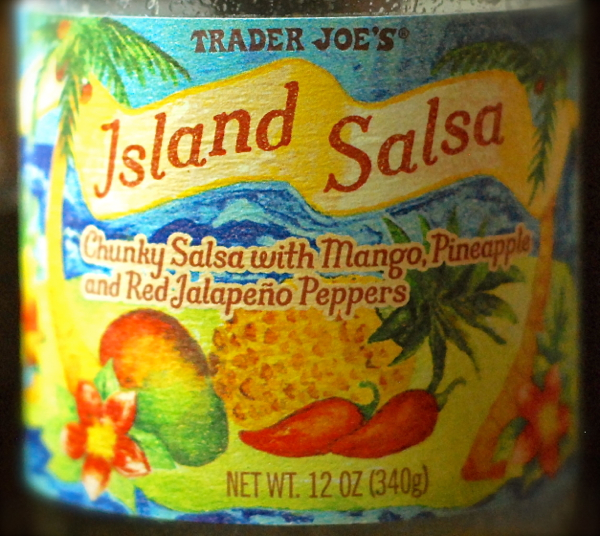 Here's a great little dish to throw in the slow cooker before you run out the door in the morning. Because of the addition of quick cooking tapioca, the sauce gets thick and a little sticky as it simmers away all day. I put in a jar of my favorite Trader Joe's Island Salsa, and it added the perfect amount of sweetness and tanginess. Seriously delicious! If you don't have access to a Trader Joe's, substitute 12 oz. of your favorite salsa that contains pineapple and mango.
serves 3 to 4 people:
9 boneless skinless chicken thighs
12 oz. pineapple mango salsa
1/2 cup ketchup
1/4 cup lite soy sauce
1/4 cup quick cooking tapioca
4 cloves garlic, minced
2 Tablespoons honey
2 Tablespoons finely grated, fresh ginger
2 Tablespoons hot sauce
1 Tablespoon dark sesame oil
1/4 teaspoon Chinese 5 spice powder
chopped green onions (topping)
chopped sweet red bell pepper (topping)
cooked rice or noodles
Place salsa, ketchup, soy sauce, tapioca, garlic, honey, ginger, hot sauce, sesame oil, and 5 spice powder in the bowl of a 4 to 7 quart slow cooker. Mix well. Add the chicken thighs and coat them completely with the sauce. Cover slow cooker and place on the LOW setting for 6 hours. When done, serve over cooked white rice, brown rice, or Chinese noodles. Top with the chopped green onion and red pepper. I think you're going to love this easy chicken dish!
Enjoy!
~Melissa
You may enjoy these related posts: