Print Friendly Version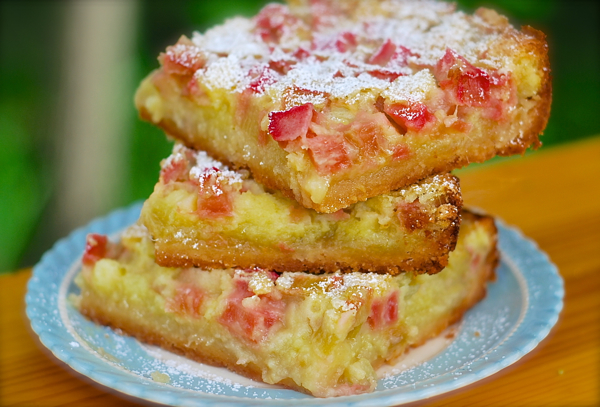 I received a giant bag of fresh rhubarb a few days ago from a friend, so I've been busy in the kitchen baking up some rhubarb magic! This is another favorite, Amish recipe that I discovered in a bunch of recipes I bought at an estate sale in Harmony, Minnesota. It's one of the best things I've ever baked with rhubarb, and it's so easy to prepare! Enjoy one of these with a big mug of coffee or tea. I've been known to eat them for breakfast.
~ preheat oven to 350 degrees F. ~
for the butter shortbread crust:
2 cups all purpose flour
1 cup sugar
1 cup butter, softened to room temperature
Mix all crust ingredients in a large mixing bowl until well combined. Press into a buttered, 9×13, glass baking dish. Bake in preheated oven for 15 minutes. The crust will still be pale in color at this point, and that's okay.
While crust is baking, prepare the filling.
for the rhubarb custard filling:
4 large or extra large eggs
2 cups sugar
1/2 cup all purpose flour
1/2 teaspoon salt
4 cups chopped rhubarb, (packed tightly)
Mix eggs, sugar, flour, and salt in a mixing bowl until smooth. Fold in rhubarb. Once crust is done baking, pour filling evenly over hot crust. Smooth surface with a rubber spatula. Bake an additional 40 to 45 minutes, or just until set and lightly golden on top.
Cool in pan on a wire rack. Once cool, gently loosen from sides of pan and cut into squares. Dust with powdered sugar. Serve. These will keep, covered on your counter top in a cool place, for 3 to 5 days.
Enjoy!
~Melissa
You may enjoy these related posts: