Print Friendly Version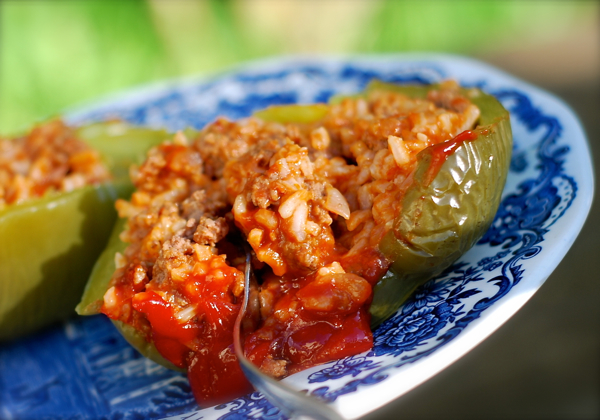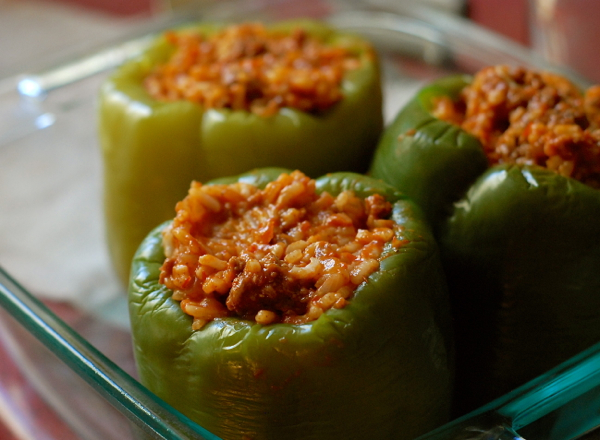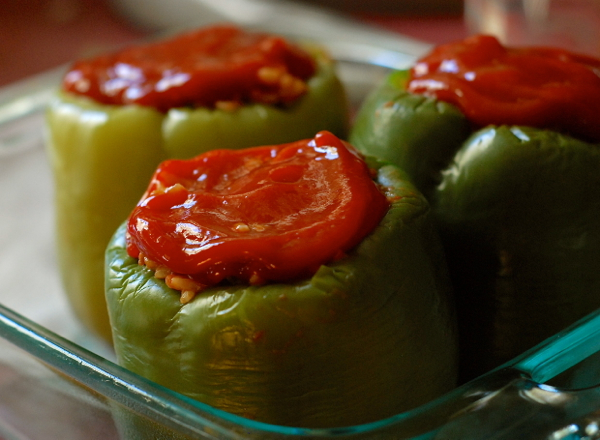 Once in awhile I just have to make one of the comfort food dishes from my childhood. I love stuffed green peppers! I have several recipes for different versions on my blog… Crock Pot Stuffed Peppers, Cheesy Chicken "Nacho" Stuffed Peppers, Unstuffed Pepper Casserole, and Stuffed Green Pepper Soup!
This new recipe is actually the "oldest" of them all, and one of the most tried and true recipes in my repertoire. Like most of my favorites, it's a recipe that was passed down to me from my grandmother. It's easy, delicious, and the perfect thing to make when you're missing home.
~ preheat oven to 375 degrees F. ~
3 to 4 large sweet green bell peppers
1 lb. lean ground beef
1 medium onion, chopped fine
2 large garlic cloves, minced
salt and pepper, to taste
2 cups cooked white rice
1 and 1/3 cups of your favorite spaghetti sauce
1/3 cup to 1/2 cup ketchup (plus more for serving)
Oil a 9×9 glass baking dish. Remove stems and seeds from peppers and enough of the tops so you can stuff them. Discard tops, stems and seeds. Steam peppers for 8 to 10 minutes, or just until firm-tender. Place them upside down on a paper towel so they can drain while you make the filling.
Brown the ground beef and onion until the meat is still a little pink. Drain if necessary. Add garlic and cook an additional minute. Transfer meat mixture to a large mixing bowl. Add the cooked white rice and spaghetti sauce. Season with salt and pepper. Fill peppers with the filling and place them in the prepared baking dish. If you have any leftover filling, place it in a small, oven-proof bowl. Top the filled peppers with some ketchup. Bake peppers and any leftover filling for 25 to 30 minutes of until very hot all the way through.
Serve with extra ketchup and salt and pepper, to taste.
Enjoy!
~Melissa
You may enjoy these related posts: