Print Friendly Version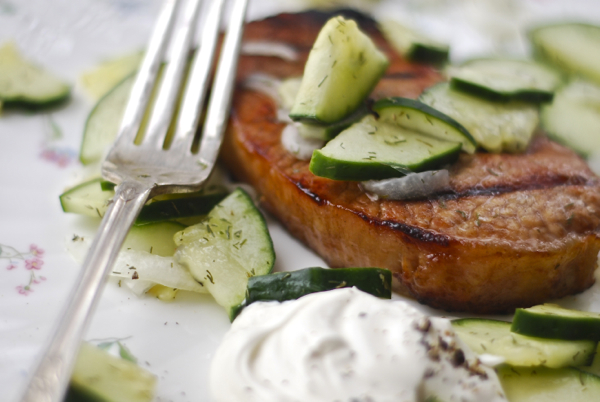 Happy Monday! We're basking in the glow of the beautiful sunshine today. All of the windows and doors are wide open, letting in the sounds of church bells, excited bird chatter and that much needed and craved fresh air that we've been lacking these many (oh, SO many) cold months and weeks.
I'm in the throes of Spring cleaning. I sort of love the ritual. Do you? I listen to She & Him, The Smiths, The Wailin' Jennys, Vampire Weekend, The Decemberists, and Pete Yorn & Scarlett Johansson… I roll  up our wooly area rugs, wash the curtains, go through my linen hutch, craft/studio hutches and sideboard, polish and wax our hard wood floors until they shine. I have a yen to take one day this weekend and wash the windows! They REALLY need it. I'm also headed to JoAnn Fabrics to get yards and yards of white cotton eyelet for new summer curtains and to drape over the top of our four poster canopy bed. I love how flowy and romantic white cotton fabric can be! A lovely, inexpensive way to dress the house for summer!
Here's a delicious, easy recipe for  grilling pork chops. This is so fresh and light, yet so satisfying.
for the cucumber vidalia salad:
1 and 1/2 cucumbers
1 medium Vidalia onion, sliced and coarse chopped
1 teaspoon fresh dill, minced
2 teaspoons salt
3 Tablespoons sugar
1/4 cup white wine vinegar
freshly ground black pepper, to taste
for the grilled pork chops:
4 pork chops
salt and pepper
1 Tablespoon olive oil
1/2 cup creme fraiche or sour cream
1 Tablespoon minced dill for garnish
lime wedges
Wash and dry cucumber. Slice and then cut each slice into quarters. Place in a bowl with a lid. Add the onion, dill, salt, sugar, vinegar and pepper. Mix to combine and coat the cucumber evenly. Cover and refrigerate until ready to eat.
Rub pork chops with the olive oil. Salt and pepper generously. Grill over charcoal, until done on both sides and internal temperature reaches 150 degrees F.
To serve: Plate chops. Spoon some of the cucumber salad over. Serve with a dollop of creme fraiche, a little sprinkle of dill and lime wedges for squeezing over.
Enjoy!
~Melissa
You may enjoy these related posts: