Print Friendly Version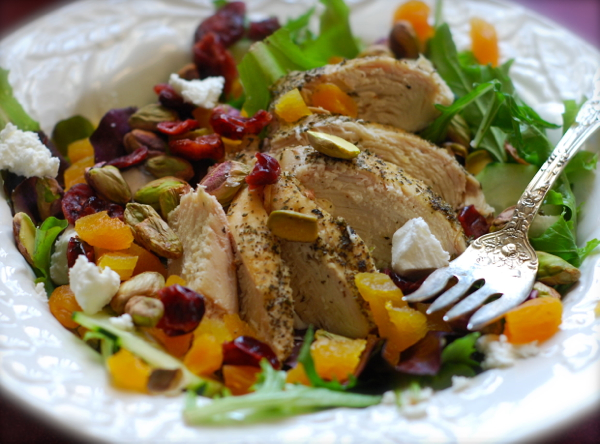 I can't believe I'm just getting around to blogging now. After midnight. Hmmmmm…. Well, I guess I'll technically be sharing two posts with you today. 😉
Here's a mouthwatering salad that is easy to put together and it's so good for you. It was inspired by a bottle of Trader Joe's Cranberry Walnut Gorgonzola salad dressing. Too delicious! If you don't have a Trader Joe's that you can visit, make up a jar of THIS or THIS, which are both just as wonderful.
for one large lunch salad:
2 loosely packed cups baby spinach or spring greens
1 grilled chicken breast, chilled and sliced
1/4 cup shelled pistachios (I used unsalted) or walnuts, chopped
3 Tablespoons craisins
3 Tablespoons dried apricots, chopped
8 thin slices cucumber
2 oz. chevre, crumbled
3 Tablespoons Trader Joe's Cranberry Walnut Gorgonzola Dressing
freshly ground black pepper, to taste
Layer and sprinkle ingredients into a generous sized, individual salad bowl. Top with the dressing and pepper.
Enjoy!
~Melissa
You may enjoy these related posts: