Print Friendly Version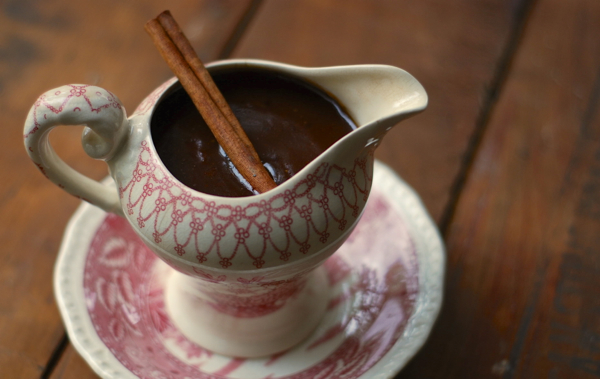 We had a little snow accumulation last night and I woke up to the world edged in white frost and a few flakes. My basil, or at least what there was left of it, got completely fried by the frost. I wish I would have harvested it or covered it, but I didn't. Oh well, I certainly can't say that I didn't get my money's worth out of those three plants. I have a couple gallons of pesto in my freezer to prove it. Soon I'll be heading out to the deck to pick the remainder of my thyme, lavender, sage and rosemary which all held up to the cold surprisingly well. I'm going to hang them on a little drying rack that hangs in my kitchen and then put the dried herbs in canning jars. How do you preserve your home-grown herbs?
I had a fun day at my friend Nancy's today. It was exactly what I needed to feel refreshed and inspired to get back to my writing. We had a yummy lunch and I crocheted more on my Heisenberg afghan while we watched THIS LOVELY NEW MASTERPIECE CLASSIC.
Before I left the house today I made a big Crock Pot full of my friend Danielle's "Cozycakes Cottage Beef Stew." Oh my….the house smells wonderful. We're having it with warm, buttered baguette, and spring greens tossed with fresh orchard apples… raisins… almonds… and this wonderful new dressing I invented last night…. mmmmmmmm….It's sweet, tangy, fruity and slightly peppery with just a hint of Original Captain Morgan Spiced Rum. I think this might just be my best homemade dressing yet. Try it and see if you don't agree.
In a big, wide mouthed canning jar, combine:
1/3 cup whole cherry preserves (I used Smucker's)
1/3 cup extra virgin olive oil
3 Tablespoons apricot preserves (I used Dickinson's"Pure Patterson")
1 heaping Tablespoon fig jam/butter (I used Trader Joe's)
1/4 cup balsamic vinegar
2 Tablespoons Captain Morgan Original Spiced Rum
2 Tablespoons sweet and spicy chili sauce (such as Mae Ploy or Trader Joes)
1 teaspoon Dijon mustard (such as Grey Poupon or Trader Joe's)
1 teaspoon salt
1/2 teaspoon freshly ground black pepper
1/4 teaspoon cinnamon
Mix very well until all ingredients are evenly incorporated. Decant into a pretty china creamer or gravy boat to serve, or use a decorative silver ladle to spoon the dressing over salads, cold pasta dishes, cheeses and grilled meats or vegetables. This also makes a wonderful marinade or sandwich topping.
Enjoy!
~Melissa
You may enjoy these related posts: