Print Friendly Version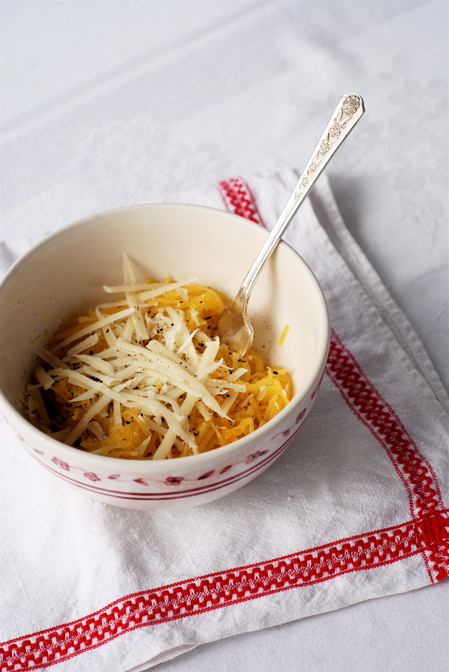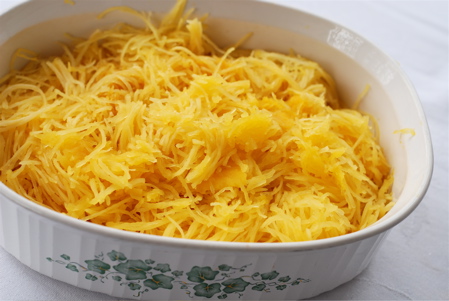 I baked a spaghetti squash for our lunch a few days ago and it was so good! I made up a batch of baby bella marinara to pour over the top, but then I watched THIS VIDEO to make sure I was cooking it right, and got hooked on the idea of a more minimalist approach to embellishments. We topped it with extra virgin olive oil, salt, pepper and freshly grated Parmesan cheese. It was YUMMY!
Here's the recipe for the marinara if you want to try it that way too…
~ baby bella marinara ~
3 Tablespoons olive oil
1 small onion, chopped
8 oz. baby bella mushrooms, washed and sliced
1/2 yellow bell pepper, chopped
1/2 red bell pepper, chopped
2 large cloves garlic, minced
1 cup red wine
26 oz. marinara
12 oz. tomato paste
1/4 cup fresh basil, chopped
Saute onion and bell peppers in the olive oil until tender. Add the rest of the ingredients and cook until heated through and somewhat reduced. Serve on pasta or spaghetti squash. Top with freshly grated Parmesan cheese, a drizzle of truffle oil and a few kalamata olives.
Enjoy!
~Melissa
You may enjoy these related posts: