Print Friendly Version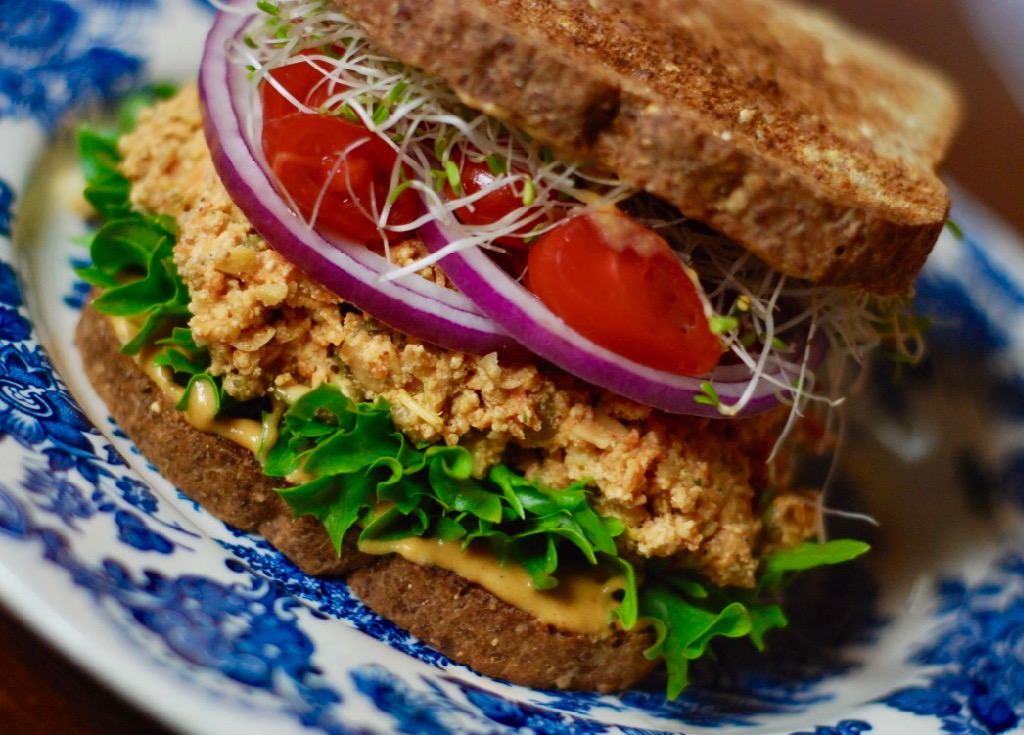 I've taken chickpea salad to the next level. This is perfect for those days when you're craving a really good sandwich and are perhaps missing the days when you ate tuna salad and chicken salad. Although I find the idea of eating animals revolting now, I completely understand the nostalgia and emotions connected to the foods we ate growing up and prior to going vegan.
I've attempted chickpea salad several times before, but there was something a little off about the texture. I didn't want to just eat a pile of chickpeas mixed with vegan mayo between two slices of bread. I was craving the texture of those sandwiches I had left behind. Just like I thought I'd never be able to find a good substitute for egg salad (which I totally DID end up creating and it's better than the original…) I thought I'd never find a substitute for tuna or chicken salad either.
Well let me tell you what. This is ri-freakin'-diculous. It's seriously so good. I made it like a traditional chickpea veggie sandwich, but if you want to tweak it to resemble your favorite sandwich, go right ahead. I'm thinking smoked almonds, halved grapes, and little chunks of apple would be good in this. Or, how about some dill? Maybe a little crumbled seaweed snack? Hmmmmm… I'll be trying this lots of new ways now that picnic season is almost upon us.
~ makes 4 sandwiches ~
for the salad:
1/3 cup chopped sweet pickle or dill pickle + 1 Tablespoon juice from the jar
1/3 cup cashew cream or vegan mayonnaise
1/2 cup chopped celery
1/2 cup chopped white or yellow onion
2 Tablespoons nutritional yeast
1/2 cup toasted pumpkin seeds or pistachios
1/4 cup mashed tofu
1 Tablespoon Dijon mustard or yellow mustard
2 Tablespoons fresh lemon juice
1 can chickpeas, drained, rinsed, and mashed with fork
1/2 cup finely grated carrot
1 teaspoon garlic powder
1 teaspoon onion powder
2 teaspoons smoked paprika
2 teaspoons Mrs. Dash Original Table Blend
1 teaspoon or your favorite seasoned salt (We like Bamboo Kitchen)
Mix all of the above ingredients together in a large mixing bowl. Serve each sandwich between two slices of toasted Ezekiel bread (or your favorite sprouted, whole grain bread) and top with greens, purple onion slices, tomato, and sprouts or microgreens. You could add some of your favorite vegan cheese or do what I did and mix a few Tablespoons of my favorite vegan nacho "cheese" with a few dashes of Tabasco and just spread that on my toast before assembling my sandwich.
Oh, and have you tried Plant Snacks Cassava Root Chips? The vegan cheddar ones are magnificent with a sandwich.
Enjoy!
~Melissa
You may enjoy these related posts: