Print Friendly Version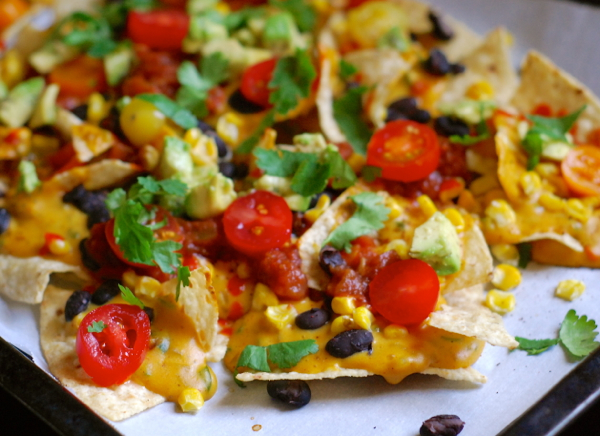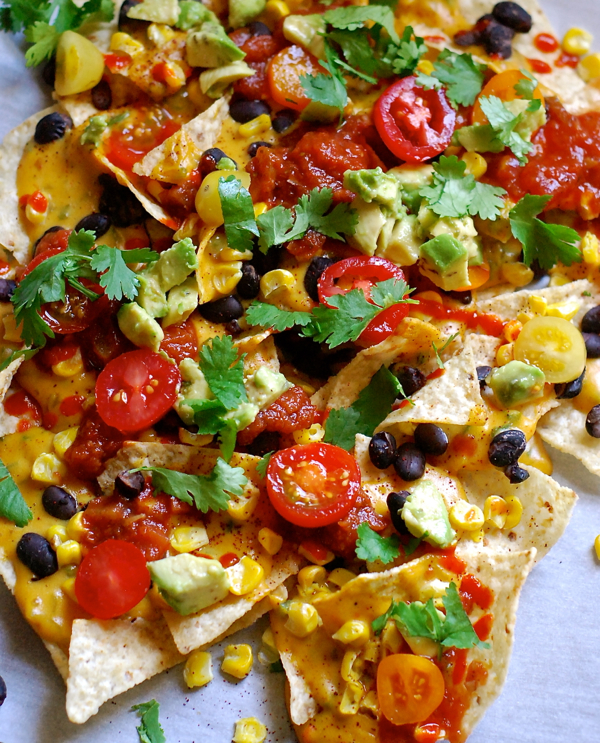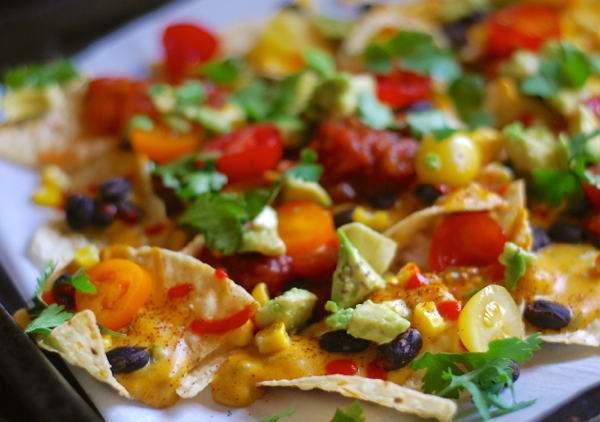 So when I looked at the recipes out there for vegan nachos I was skeptical. The "cheese" starts out with mashed potatoes. How can that possibly turn into cheese? Well, it DOES. Some sort of witchcraft happens when you mix everything together. I can't explain it. These are the absolute BEST vegan thing I've ever made. I'm tempted to serve them at our next dinner party and not tell anyone the cheese is actually vegetables, just to see if anyone notices. I am a believer. One of the hardest things for me to give up was cheese, and this little recipe changes everything for me. I made a double batch of the "cheese" so I could make mac & cheese tomorrow for my lunch. Can't wait! This is junk food without the junk (and about 1/4 of the calories!) Whoo hooooo!
for the "cheese" sauce:
1 (12 oz.) russet potato, peeled and cut into 1 inch cubes
1 small carrot (about 1/3 cup) peeled and sliced
1/3 cup vegetable stock
3 Tablespoons light olive oil, divided
1/4 cup nutritional yeast
1 and 1/2 teaspoons apple cider vinegar
1 teaspoon sea salt
1/3 cup finely chopped onion
1 large jalapeno, seeded and finely chopped
1 large garlic clove, minced
1/4 teaspoon chipotle powder
1/4 teaspoon mild chili powder
1/4 teaspoon cumin
Place cubed potatoes and sliced carrots in a medium saucepan of boiling water. Boil until tender and easily pierced with a fork. Drain well and place in the bowl of a blender along with the stock, 2 Tablespoons of the oil, yeast, vinegar, and salt. Pulse until combined. Scrape down inside of blender. Process on high until very smooth. Transfer to a bowl with a lid. Set aside.
Place the remaining Tablespoon of oil in a skillet over medium-high heat. Saute onion and jalapeno for 3 to 5 minutes or until tender and lightly golden around edges. Add garlic, chipotle powder, chili powder, and cumin. Cook an additional minute and add this mixture to the "cheese." Mix well.
for the nachos:
~ preheat oven to 375 degrees F. ~
Line a baking sheet with parchment and layer, in this order:
tortilla chips
generous drizzle of the nacho "cheese"
cooked corn that has been blotted dry
cooked beans (your favorite, I used black)
Place in oven and bake for approximately 6 to 7 minutes, or just until very warm. Remove from oven and top with any or all of the following:
sliced cherry or grape tomatoes
chopped avocado or guacamole
salsa
cilantro
hot sauce
Enjoy!
~Melissa
You may enjoy these related posts: