Print Friendly Version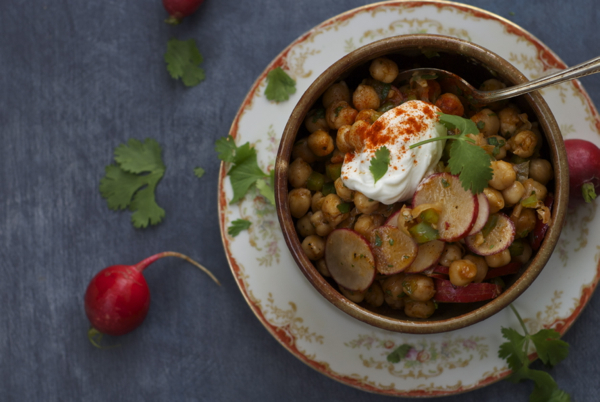 I know that we're right smack dab in the middle of the official "season of comfort food." People don't usually associate salads with comfort food, but I'm here to tell you that's all going to change once you try this smoky, hearty salad. Chickpeas and smoked paprika (pimenton) are the stars of the show, and the red radish crunch is the leading lady.
Serves 4
2 (15 oz.) cans low-sodium, organic chickpeas
2 large cloves garlic, minced and sauteed in a little olive oil until golden
1/4 cup extra virgin olive oil (butter-flavored if you can find it)
1 Tablespoon white balsamic vinegar
1/2 teaspoon chili powder
1 teaspoon smoked paprika
1/2 teaspoon chipotle powder
freshly ground black pepper and sea salt, to taste
8 large red radishes, sliced thin
1/3 cup green pepper, chopped
3 Tablespoons chopped parsley or cilantro
4 large, fresh basil leaves, chopped
1/4 cup to 1/2 cup plain greek yogurt, for dressing
Drain and rinse chickpeas well. Place them in a large mixing bowl along with all of the other ingredients (except the greek yogurt.) Mix well. Divide between 4 bowls. Top each with a dollop of greek yogurt, extra smoked paprika and parsley/cilantro sprigs as a garnish.
Enjoy!
~Melissa
You may enjoy these related posts: